Letter from Santa 2016

Tuesday, November 22, 2016 at 3:00 PM

-

Saturday, December 17, 2016 at 12:00 AM (EST)
Event Details
Letter from Santa- $7
Give your child a letter from Santa Claus to open this holiday. Send me the details requested and I'll mail or deliver a personalized letter with a wax "S" stamped envelope (see example below). An email proof can be sent for your approval.
Deadline to order is midnight on Friday, December 16th 
 ~~~~~~~~~~~~~~~~~~~~~~~~~~~~~~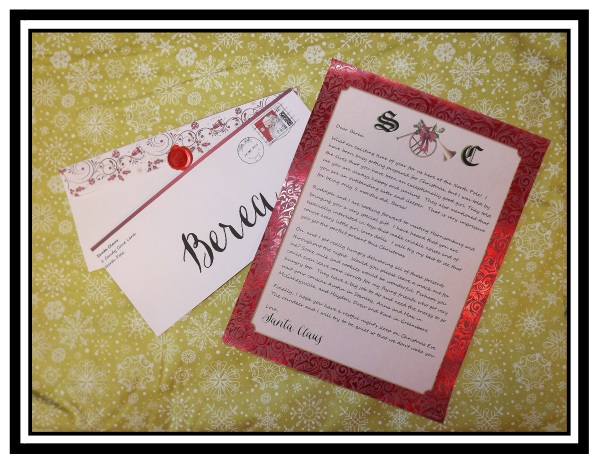 ~~~~~~~~~~~
LETTER EXAMPLE:
Dear [name],
What an exciting time of year for us here at the North Pole! I have been busy getting prepared for Christmas, but I was told by the elves that you have been an exceptionally good [gender]. They told me you are always [accomplishment or good deed]. They also mentioned that you [accomplishment or good deed]. That is very impressive for being only [age], [name]!
Rudolph and I are looking forward to visiting [hometown] and bringing you a very special gift. I have heard that you are especially interested in [desired Christmas present]. I will try my best to see that you get the perfect present this Christmas.
Oh, and I get really hungry delivering all of those gifts throughout the night. Would you please leave a snack out for me? Some milk and cookies would be wonderful. Perhaps you could even leave some carrots for my flying friends who get very hungry too. They have a big job to do and need the energy to go visit your [relationship] [cousin or friend] in [cousin or friend's hometown].
Finally, I hope you have a restful night's sleep on Christmas Eve. The reindeer and I will try to be quiet so that we don't wake you.
Love,
Santa Claus
When & Where

Harrisonburg, VA 22801


Tuesday, November 22, 2016 at 3:00 PM

-

Saturday, December 17, 2016 at 12:00 AM (EST)
Add to my calendar