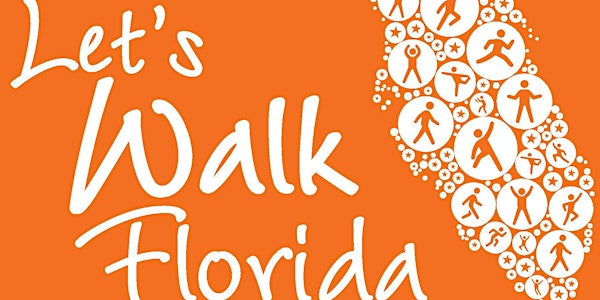 Let's Walk Florida Lake County
When and where
Location
Lake County Cooperative Extension Service 1951 Woodlea Road Tavares, FL 32778
Description
Are you ready to look and feel your best this summer? Join the Let's Walk FL challenge to keep you active and motivated!
Let's Walk FL is a 12-week healthy lifestyle challenge designed to promote physical wellness where community members team up to start a lifelong walking habit. Prizes will be awarded to the top teams and individuals at the end of the program! The only face to face meetings are the Kick Off Event and End of Program Celebration.
Teams of 5 or Solo walkers are welcome! Participants track their minutes of physical activity (any physical activity counts, not just walking!) each week and report it to the Extension Office. Participants will receive wellness tips in a weekly newsletter along with an update on who is in the lead for the challenge!
Attention Teams! Before you register, make sure to recruit 4 friends, family members (children and teens are welcome to participate), or coworkers to be on a team with you. Choose one team member to be a team captain and think about a team name. Make sure you let all your team members know how to register.
Registration Fee is $10/person. Let's Walk FL is a nonprofit event. Fees go towards prizes for top teams and solo walkers. The first 50 participants to register will receive water bottles and pedometers!
Registration Deadline: June 29th. Once you register and pay through Eventbrite you will receive an e-mail with a more detailed registration form to complete and return by e-mail to wilchcombe@ufl.edu or in person at the Lake County Extension Office, 1951 Woodlea Rd, Tavares.
Participants can choose to purchase a t-shirt for $10. Size and color preferences will be be recorded on the registration form you receive after initial eventbrite registration.
Key Dates:
Registration Deadline: June 29th
Kick Off Event: June 25th 6pm - 7pm at the Lake County Extension Office
Start Tracking Your Minutes for Let's Walk FL: June 30th
Last Day of Tracking Minutes for Let's Walk FL: September 21st
All Final Minutes Must be Reported: September 25th
Celebrate Success Event: October 14th
For questions, please call Mia Wilchcombe at 352-343-4101 ext 2721 or e-mail at wilchcombe@ufl.edu.