Description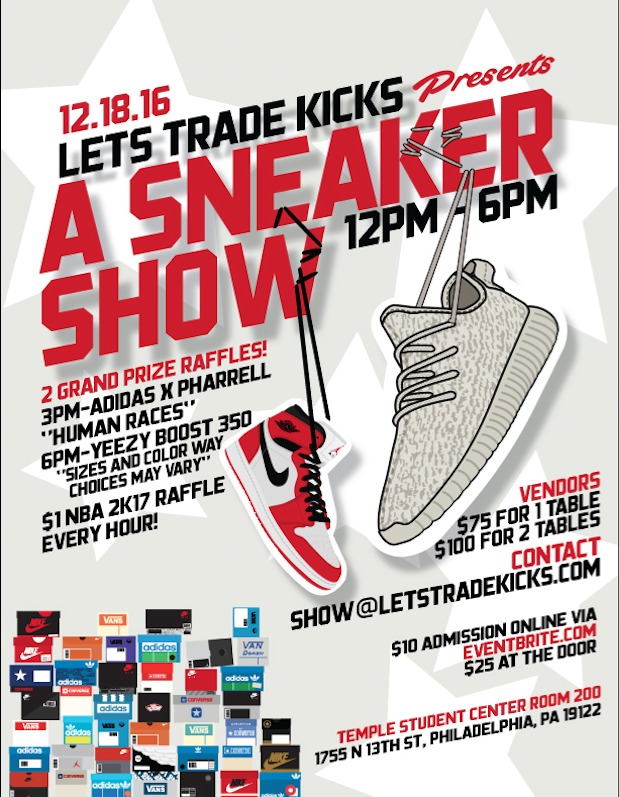 LETS TRADE KICKS presents "A Sneaker Show"
"A Sneaker Show" is an exciting and brand new sneaker show where sneaker enthusiasts of all ages can safely buy, sell, and trade their kicks! Come and celebrate the sneaker culture with all of your family and friends! Thousands of sought after sneakers will be on display and you can bet there will be some giveaways! Our show was created for sneakerheads by sneakerheads! Every part of our event was made with you in mind. We hope to see you there!
WHEN: Sunday, December 18th, 2016 a
t 12
pm – 6 pm
WHERE: TEMPLE UNIVERSITY STUDENT CENTER
ROOM 200
1755 N 13TH ST, PHILADELPHIA, PA 19122
TICKET SALE AND VENDOR OPTIONS:
•

PRE-SALE GENERAL ADMISSION (NO RAFFLE TICKETS) - $10

•

PRE-SALE GENERAL ADMISSION + 3 RAFFLE TICKETS - $15

•

PRE-SALE EXPRESS LINE + 3 RAFFLE TICKETS - $25
TICKETS WILL ALSO BE AVAILABLE AT THE DOOR
-
$25!!!
•

1 VENDOR TABLE - $75

•

2 VENDOR TABLES + 5 RAFFLE TICKETS - $100
**WE ASK ALL VENDORS TO READ TERMS AND CONDITIONS FOR SET UP TIMES AND PROCEDURES**
OUR EVENT BRINGS SNEAKERHEADS FROM ALL OVER AND PUTS THEM UNDER ONE ROOF! YOU CAN EXPECT TO SEE :
Rare and sought after sneakers on display and available for purchase!

Two Grand Prize raffles!

Hourly $1 raffles: 2k17, Madden and COD !

Music by a live DJ spinning the latest hits!
RULES and CONDITIONS
ALL TICKETS & VENDOR TABLE(S) ARE NON-REFUNDABLE. ALL SALES ARE FINAL
ALL TICKET PURCHASES ALLOW ATTENDEE TO BRING IN AN UNLIMITED NUMBER OF SNEAKERS. NO CARTS WITH WHEELS WILL BE PERMITTED.
NO ADMISSION AFTER 4 PM - WITH OR WITHOUT A TICKET
AFTER 5 PM (EST) ALL EXITS ARE FINAL
LTK (Lets Trade Kicks) IS NOT RESPONSIBLE FOR LOST OR STOLEN ITEMS. PLEASE SAFEGUARD YOUR PRODUCT(S).
LTK IS NOT RESPONSIBLE FOR SALES OR TRADES MADE BETWEEN BUYERS AND SELLERS.
VENDORS ARE NOT ALLOWED TO SELL FOOD OR DRINK (PRE-PACKAGED OR PREPARED.)
VENDORS ARE NOT ALLOWED TO SELL TOBACCO, CIGARETTES, ALCOHOL, OR ELECTRONIC CIGARETTES. ANY VENDOR OR PERSON(S) FOUND SELLING ANY OF THESE ITEMS WILL BE ASKED TO LEAVE WITHOUT REFUND.
ALL VENDORS MUST ARRIVE AT 10 AM TO SET UP AND MUST BE SET UP BEFORE 11:30 AM. IF VENDORS ARRIVE AFTER 11:30 AM THEY WILL NOT BE ALLOWED TO SET UP NOR WILL THEY RECEIVE A REFUND.
ANY QUESTIONS OR CONCERNS PLEASE CONTACT:
RAFFLES!!!
We will be hosting 2
G
rand
P
rize raffles at 3 PM
and 6 PM.
The 3 P
M
raffle will be for Pharell x Adidas Human Race (size and color varies)
and the 6 PM raffle will be a pair of Adidas Yeezy Boost 350 (size and color varies)
Grand Prize Raffle Ticket Prices :
- $5 for 1
- $10 for 3
- $35 for 10
In addition, we will be hosting a $1 raffle every hour on the hour for NBA 2k17, Madden 17, and the latest Call of Duty.
There may also be a surprise raffle/giveaway at some time during the event!!!!!
RAFFLE RULES
1) ALL WINNERS MUST BE PRESENT.
2) ALL WINNERS MUST RESPOND WITHIN THE DESIGNATED TIME FRAME (10 MINUTES) OF RAFFLE DRAWING WITH THE PROPER TICKET.
3) RAFFLE PRIZES ARE A SET SIZE FROM CONSIGNOR. WINNERS DO NOT GET TO CHOOSE THE SHOE SIZE.
IF YOU'RE ANOTHER EVENT ORGANIZER AND WISH TO PROMOTE YOUR UPCOMING SHOW, EVENT, OR SERVICES AT "A Sneaker Show" YOU MUST HAVE WRITTEN APPROVAL FROM LTK PRIOR TO THE EVENT. IF YOU DO NOT OBTAIN WRITTEN APPROVAL YOU WILL NOT BE ALLOWED TO CROSS PROMOTE AT "A Sneaker Show"