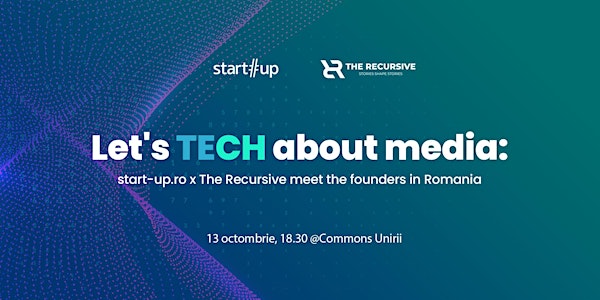 Let's TECH about media: start-up.ro x The Recursive meet the founders
Media workshop organised by start-up.ro & The Recursive teams so founders can access meaningful insights about media relations.
When and where
Location
Commons Unirii 5 Strada Halelor 030118 București Romania
About this event
start-up.ro & The Recursive teams joined forces and are inviting founders to the "Let's TECH about media" event in Bucharest, Romania. Let's talk about the importance of telling the right story and discover how can entrepreneurs and communication managers talk the same language as journalists.
The space is limited, but the access is free, all you have to bring is your networking skills. Join the event on the 13th of October, at Commons Unirii.
As you know, or should, you might be building the most innovative solution out there. But the key to success is to make your endeavor known outside of your community.
Media players have the power to help with brand awareness and support your visibility as you keep building your solution. And just like coding, they have their language.
You can discover it at the event during a dedicated workshop about how to collaborate with the media, as well as through a panel with a local tech startup founder, Cosmin Cosma, co-founder and CEO of Fintech Finqware.
The Let's TECH about media event awaits you:
18:30 - Warm-up
18:45 - Intro start-up.ro & The Recursive with Vlad Andriescu, Editor in Chief, and Elena Vrabie, Sales & Senior Content Manager
19:00 - Media Workshop
20:00 - Talk with Cosmin Cosma - Finqware
20:40 - Q&A from the public
21:00-21:30 - Networking