Description
**Tickets are officially sold out**Thank you for your support - stay tuned for updates from the event!
Four trashy start-ups compete for a cash prize. Attendees vote on the pitch that best demonstrates its ability to help NYC reach its 0x30 goal (zero waste to landfills by 2030).
Repeat Roses | Industrial/Organic | Go Box | FABSCRAP
By bringing people together to TALK TRASH, we hope to continue to build a community of individuals, organizations, and companies that are dedicated to developing environmentally responsible solutions to urban waste management.
Expert Panelists:
TALK TRASH CITY EVENT STRUCTURE:
Each Talk Trash City event will comprise of 3-4 presentations, (given in pecha kucha format), to a panel of expert judges and guests in attendance
After each ~7 minute presentation, the judges will comment on the presentation and have an opportunity to ask questions
These events are meant to be fun and educational, and there will be time for networking with friends and colleagues
Big thank you to our three sponsors!
Corrugagated Cardboard Level Sponsors: Closed Loop Fund & Sims Municipal Recycling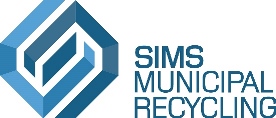 Plastic Nurdle Level Sponsor: Mr. Allen Rosenshine