Description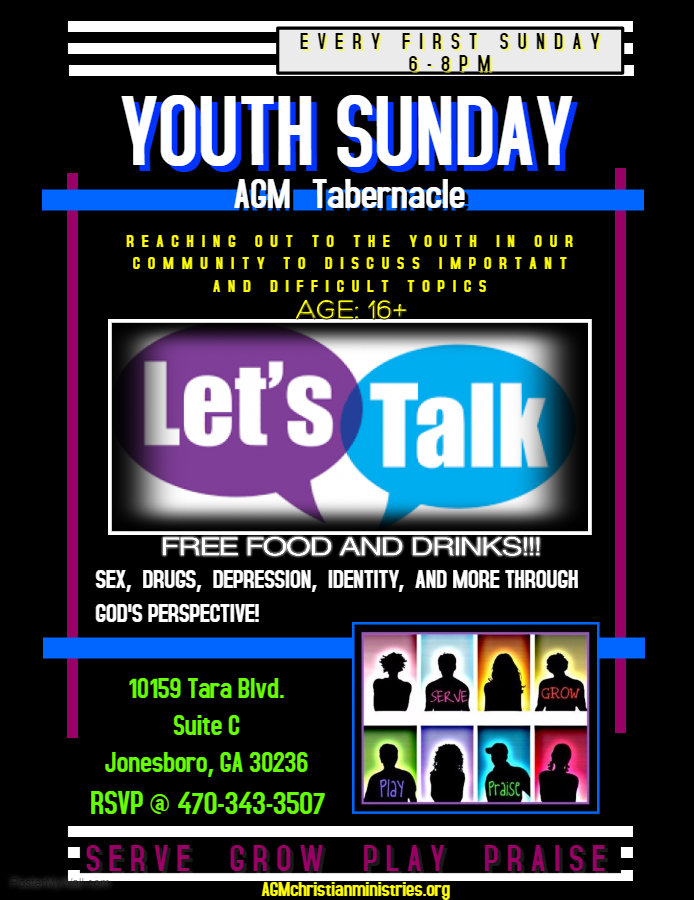 AGM YOUTH DEPARTMENT PRESENTS YOU WITH "LET'S TALK!"
WELCOME TO A SAFE PLACE TO DISCUSS TOUGH TOPICS LIKE SEX, DRUGS, DEPRESSION, DATING, IDENTITY AND MORE FROM GODS PERSPECTIVE. COME JOIN A COMMUNITY OF YOUNG PEOPLE STRIVING TO LIVE RIGHT IN A CRAZY WORLD. WE ARE HERE TO BUILD AND SUPPORT OUR YOUNG COMMUNITY.
REAL ISSUES ARE DISCUSSED PROVIDING A CLEAR GODLY PERSPECTIVE FOR THE YOUTH.
YOU WILL FIND REFUGE, SUPPORT AND ENCOURGEMENT AT LET'S TALK!
EVERYONE 16+ ARE WELCOME.
BRING YOUR FRIENDS, YOUTH GROUPS, CLUBS, TEAMS ETC.
REFRESHMENTS WILL BE SERVED. PLEASE RSVP @ 470-343-3507