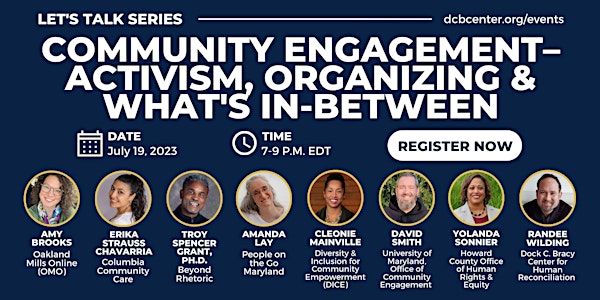 Let's Talk Series: Community Engagement
Activism, Organizing & What's In-between. You have the ability to use your skills and passion in service to your community.
By Dock C. Bracy Center Inc.
Date and time
Wednesday, July 19 · 4 - 6pm PDT
Refund Policy
Contact the organizer to request a refund.
Eventbrite's fee is nonrefundable.
About this event
How are you engaged with your community?
Community engagement is a continuum that takes many forms. From organizing a neighborhood trash pick-up to founding a nonprofit organization.
Our panel reflects the different ways you can engage with your community. Find out what they're doing, why it's rewarding, what they've learned and what tips they have for you.
Whoever and wherever you are, you have the ability to use your skills and passion in service to your community.
Panelists
Please join us via Zoom on Wednesday, July 19, 2023, 7-9pm EDT (UTC-4), for Let's Talk Series: Community Engagement – Activism, Organizing and What's In-between.
About
Before the Event
All registered participants will have access to a brief pre-event survey that allows questions to be submitted to our panelists.
During the Event
This is a webinar style event. All registered participants will have the opportunity to submit questions to our panelists. Questions will be screened and asked, given the time allowed.
After the Event
All registered participants will receive a post-event email including a survey and additional resources. A recording of the event will be publicly available on the Dock C. Bracy Center for Human Reconciliation website, in the days following our event.
Join us via Zoom on Wednesday, July 19, 2023, 7-9pm EDT (UTC-4), for Let's Talk Series: Community Engagement. Registration is required for this event.
Amy Brooks
Amy Brooks has been a public high school teacher in Baltimore City and Howard County for over 20 years. She co-founded Oakland Mills Online (OMO), a non-profit community education platform, when school buildings closed due to the pandemic. For over 3 years she has continued to encourage people of all ages to learn, grow, and lead through a variety of online and in-person offerings.
OMO
Erika Strauss Chavarria
Erika Strauss Chavarria is the Founder and Executive Director of Columbia Community Care, a nonprofit in Howard County, Maryland. Erika is originally from Albuquerque, New Mexico. She obtained a BS in Political Science and Latin American Studies from the University of Pittsburgh in 2004 and went on to obtain a Master's Degree in International Law and Human Rights from the United Nation University for Peace in Costa Rica. After receiving her Master's in Teaching from Towson University in 2010, Erika returned to her alma mater, Wilde Lake High School, to teach Spanish. An advocate for racial and social justice, she became a practitioner and trainer of Restorative Justice in an effort to end the School-to-Prison Pipeline. Erika has presented across the country on topics related to racial justice in education, anti-racism, and Restorative Justice, and has served on numerous policy committees to ensure equity and anti-racism efforts in education. She has testified on the county, state, and national level for legislation regarding immigrant justice and whistleblower protections for educators. Erika has successfully pushed for legislation at the National Education Association (NEA) to support reparations for descendants of enslaved Africans, endorsement of the Black Lives Matter at School Movement, environmental justice for students and communities in Flint, Michigan facing the lead water crisis, and a grievance process for educators facing racism and discrimination. Erika also served on the NEA Task Force for School Discipline and School to Prison Pipeline in 2016 and then on the NEA Equitable and Just Schools Task Force in 2022, which created policies condemning zero tolerance and over policing in schools and advocating for equitable and just educational practices and policies. Erika is a Board Member of the organizations Racial Justice NOW! and the Anti-Racist Education Alliance. She also served as a National Education Association Director representing Maryland and a Director for the Maryland State Education Association from 2017-2022. In March of 2020, Erika founded Columbia Community Care, an organization that has provided hundreds of thousands of people in her community with groceries and supplies during the pandemic, and provides programming around Liberation Education, Health & Healing, Purpose Pathways, and Essential Resources. Columbia Community Care has won Best of Howard County Volunteer Organization in 2020, 2021, and 2022, as well as the 2022 Howard County Rise to The Challenge Award. Erika is the recipient of the 2020 Howard County Human Rights Commission Human Rights Award, Baltimore Sun's 25 Women to Watch 2020, Daily Record 2023 Top 100 Women, and The Baltimore Banners Emerging Leaders 2023.
Columbia Community Care
Troy Spencer Grant, PhD
Troy Spencer Grant, Veteran of the U.S. Air Force, received a BA in History (magna cum laude) from the City University of New York (CUNY), a MA in Teaching from Johns Hopkins University (JHU) and a Ph.D. in Language, Literacy and Culture from the University of Maryland, Baltimore County (UMBC). His dissertation focused on subjugated and dominant Discourse(s) in the "reform" narrative. A NBCT in his twentieth year of teaching,Troy first taught in the Baltimore City Public School System, and now with the Prince George's County Public School System. Besides teaching full-time, he is an adjunct professor at Howard Community College (Fall '22), teaching Intro to Criminal Justice. To get a sense of Troy Spencer Grant, read this New York Times interview when he was a second-year teacher, listen to his Storycorps Interview with his former student, or listen to his most recent interview with Les Raymond from the Mindful Movement. Troy was on probation before he was a teenager.
Beyond Rhetoric
Amanda Lay
Amanda Lay is a disability rights and full inclusion activist. She is a support broker for people with disabilities on the Maryland self direction waiver and facilitates training in self advocacy in PROJECT S.T.I.R.: Steps Towards Independence and Responsibility. She recently completed 10 years of service on the Maryland Developmental Disabilities Council where she advocated for the full inclusion of people with disabilities throughout Maryland. She has been an active member in Toastmasters International for 21 years.
Amanda graduated from the University of Maryland with a degree in Communications. She lives in Rockville, Maryland with her parents and is an Aunt to five nephews and three nieces. Community Engagement is essential and she is honored to participate on the panel.
People On The Go of Maryland
Cleonie Maineville
Cleonie Mainvielle is the Owner and Founder of Inspired Outcome, a consulting business that focuses on time management, productivity, and equity.
She is also the Founder of a nonprofit called Diversity & Inclusion for Community Empowerment (DICE). DICE is a network of individuals committed to advocating for systemic solutions where 100% of education and government decisions are made through an equity lens.
As an immigrant from Jamaica, she migrated to New York and became the first in her family to earn a college degree. After receiving her master's, she was nominated and appointed as a Presidential Management Fellows with the Federal Government. At the US Department of Housing and Urban Development (HUD), she worked with nonprofits and local governments to end and prevent homelessness throughout New England for 17 years until she resigned in 2018 to be a full-time entrepreneur.
In 2019, Cleonie Mainvielle served as foreperson on the retrial of a Black man who had spent 32 years in prison for a murder that an all white jury had wrongfully convicted him of. This experience solidified her commitment to advocating for systemic solutions that promote diversity, inclusion, equity, anti-racism, empathy, and compassion in institutional systems. As a result, she returned to the Federal Government as an Independent contractor to support local and national communities in improving housing outcomes and the human experience for Black, Brown, Indigenous, and all people of color. Specifically, she provides consultation to communities that are committed to confronting structural racism and racial inequities in their homeless response systems.
In addition to running her business, she also serves as a student mentor for Binghamton University and the University of Pennsylvania, entrepreneurship mentor for EforAll and Social Enterprise Greenhouse, and is an active member of several DEI committees on both the Federal, State and local levels.
Cleonie earned her Bachelors' in Psychology from Binghamton University and her Masters in Social Work from the University of Pennsylvania.
Diversity & Inclusion for Community Empowerment (DICE)
David Smith
David W. Smith Sr. is the Lead Community Engagement Coordinator with the Office of Community Engagement at the University of Maryland. As a native and proud Marylander and Prince Georgian, he is a strong advocate for bringing forth transformational changes through passion, community development, and engagement.
In his previous work, David has held positions in Prince George's County Board of Education for Prince George's County Public Schools, as well as with the Prince George's County Office of the County Executive Office of Community Relations.
He is the proud father of two sons which has driven his passion for working with youth and families.
As a strong advocate for the importance of fatherhood and male involvement, David volunteers as the Vice President of the 100 Fathers, Inc. He is also an active volunteer member of Real Men Teach, an organization that focuses on recruiting, retaining, reimagining, and reinvesting in male educators and male educators of color. Further, David advocates for mental health and wellness through his role as a volunteer advisory board member for Lauryn's Law, an organization that advocates and works with youth and families on mental health and suicide prevention.
In his free time, David enjoys spending time with his family and friends, visiting nice restaurants, and listening to live music. David is a people person who enjoys life and living it to the fullest.
University of Maryland, Office of Community Engagement
Yolanda F. Sonnier
Before joining Howard County Government, Yolanda previously practiced law for 21 years and has served as a consultant, trainer and advisor on diversity, equity, inclusion, retention, organizational change and human and civil rights matters.
Yolanda served as the Diversity Committee Chair and Vice Chair for the American Bar Association Section of Family Law for 5 years where she created the Diversity Fellowship program to address the lack of diversity, retention and promotion of diverse members. She also led the revision and implementation of the diversity plan for the Section during her tenure. Yolanda also served as the Chair of the Maryland State Bar Association's (MSBA) Diversity and Inclusion committee, and under her leadership the Association held its 1st Diversity & Inclusion Conference. Yolanda also was instrumental and led in the development, drafting and presentation of the MSBA's inaugural Diversity, Equity and Inclusion plan.
Yolanda has received several accolades for her professional and community involvement, including being named one of the Daily Record's Top 100 Women in Maryland.
Howard County, Maryland, Office of Human Rights & Equity
Randee Wilding
​Randee serves as the Chief Operating Officer of the Dock C. Bracy Center for Human Reconciliation. Randee is a graphic designer and artist with over 25 years of experience in technology and consulting. He has worked both nationally and internationally on design, marketing and software projects for Fortune 500 companies and government organizations. He received his B.A. from the University of Maryland, College Park. Randee is committed to social justice and racial equity.
#CommunityEngagement
#CommunityBuilding
#CommunityOutreach
#CommunityDevelopment
#CommunityInvolvement
#CommunityEmpowerment
#CommunityInclusion
#CommunityParticipation
#CommunityCollaboration
#SocialImpact
#SocialChange
#SocialGood
#Nonprofit
#NGO
#Volunteerism
#CivicEngagement
About the organizer
The Dock C. Bracy Center is committed to human reconciliation and the eradication of racism and other forms of human oppression. Our work focuses on healing the internal emotional and cognitive harms that have allowed racism to continue to thrive in our society. We support the efforts of many other groups and individuals by providing opportunities for learning and self-reflection so that strategies to eradicate racism can become more successful. https://www.dcbcenter.org