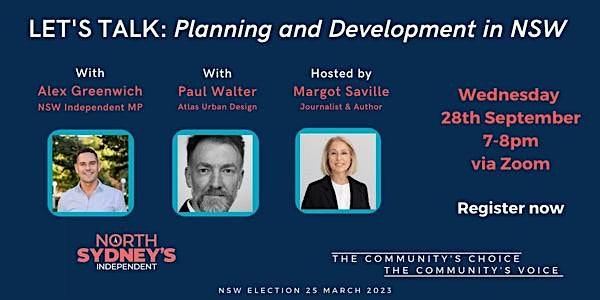 Let's Talk: Planning & Development
Planning and development is a major issue in our community - so Let's Talk
About this event
Are you fed up with having no control over developments in your own backyard? Then join two local champions of sustainable development to find out how you can make a difference.
Alex Greenwich is the Independent MP for Sydney and chairs the Environment and Planning Committee of the NSW Parliament. He has been a strong advocate against insensitive over-development of our beautiful suburbs.
Paul Walter is behind the campaign to limit the destruction of Cammeray Park. He's been chair of the built environment committee of the Institute of Architects. He was also involved in the creation of the State Environment Planning Policy since scrapped by Lane Cove MP, Anthony Roberts.
The evening will be chaired by well respected journalist, Margot Saville. Margot has written extensively on politics, the law and economics. She has just published The Teal Revolution, a book based on the extraordinary success of independent candidates in the Federal Election.
This zoom discussion is the latest in a series being organised by North Sydney's Independent (NSI) to inform voters of the big issues ahead of next year's NSW election.
Sign up to find out what major projects are coming down the pipe and what we can do about it.
PLEASE NOTE: THIS ZOOM EVENT WAS ORIGINALLY SCHEDULED FOR WEDNESDAY SEPTEMBER 21 AND HAS NOW BEEN RESCHEDULED TO WEDNESDAY SEPTEMBER 28.
NSI is the organisation behind Kylea Tink's successful campaign in this year's federal election for the seat of North Sydney. NSI is now looking for community based independent candidates to stand in the three NSW seats in our area: Lane Cove, Willoughby and North Shore.