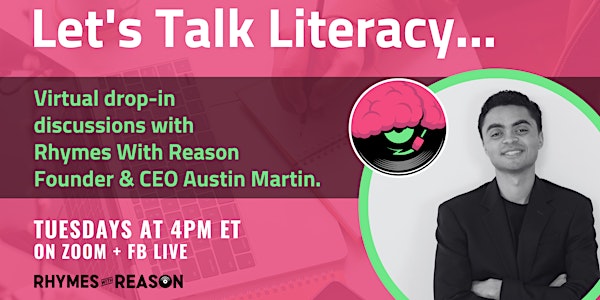 Let's Talk Literacy / Drop In Discussions with Rhymes With Reason
EdTech discussions with Austin Martin, Founder & CEO of Rhymes with Reason.
About this event
Register now to discuss literacy & ed tech with Rhymes With Reason Founder & CEO Austin Martin M.Ed. During each date, we'll limit the guest list to only five attendees to ensure a rapid & productive chat around educational technology, as well as hip-hop & popular music's role in literacy skill development.
Send us your questions in advance and we'll address them during these 15-minute conversations; an excellent option for busy educators who cannot commit to a typical hour-long webinar!
Note: On dates when Rhymes with Reason is holding a full webinar on a Tuesday during this time, the Educator Exclusive will not occur. For example, we will not hold an exclusive on Tuesday, September 20th.
—
ABOUT RHYMES WITH REASON
Rhymes with Reason is an educational technology program that helps students build literacy skills through their favorite music.
Our patent-pending, web-based app has a proven track record of improving literacy, vocabulary, and reading levels. Rhymes with Reason builds students' confidence by showing them that academic excellence is already within reach through the music and culture they know and love. Students in over 200 schools and educational programs nationwide learn with Rhymes with Reason.
ABOUT AUSTIN MARTIN
Austin Martin founded Rhymes with Reason in 2015 during his study at Brown University. Holding a Master's in Education from Harvard Graduate School, Austin is a Forbes 30 Under 30 recipient.