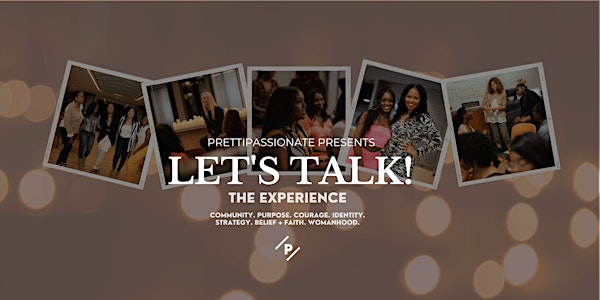 Let's Talk : Girl, You Got This! Series
Monthly series, helping women overcome fear, elevate in faith + create effective marketing to drive income and impact.
Date and time
Thursday, April 13 · 7:30 - 9:30pm EDT
Location
Atlanta TBA Atlanta, GA 30305
Refund Policy
Contact the organizer to request a refund.
Eventbrite's fee is nonrefundable.
About this event
PRETTIPASSIONATE AND PPMGROUP PRESENTS THE LET'S TALK! EXPERIENCE
WHAT IS THE LET'S TALK! EXPERIENCE?
Where Kingdom AND Culture meets.
Led by Elevation Strategist, marketing maven, speaker and entrepreneur Cara Sherice, this Let's Talk! experience is a premium sacred meeting space for a diverse audience of women looking to talk, be inspired, and connect with like-minded women in sisterhood to get to the next level in life & business. All ages (18+), cultures, and experiences welcomed!
IS THIS EXPERIENCE FOR YOU?
Our theme this year is LAUNCH OUT. It's time to take that idea you have and get in action! So we are going to equip you with the strategy, tools, inspiration, and support to do that THIS YEAR.
Are you feeling a burning desire to birth something new this season? A business, a book, or a major assignment perhaps.
Are you an aspiring or new woman entrepreneur who is ideating, launching, pivoting, or trying to market a purposed-driven business or project, but feeling stuck? Maybe it's fear, maybe it's clarity, and maybe it's just support.
Join us for a monthly soul nourishing conversation & interactive session as we navigate the journey of getting to the next level in the women God called us to be.
Click here to have a virtual cheers with us here! We can't wait to see you.
THE EXPERIENCE
Each experience incorporates prayer, a moment of worship, and explores exercises that help us tap into our God given power to manifest the life and business we dream. Make no mistake about it, the spirit is present in the room!
We'll dive into conversations around fear and how to navigate it, building a brand with confidence, strategy for the journey, marketing your gift and create lifelong nurturing friendships. If you are looking for a safe space where you can show up as your whole self, drop your superwoman cape, and hear "Girl, You Got This!" each month - this is for you. We'll laugh, cry, heal, learn, and have a lot of fun as we navigate life, business, culture, & womanhood.
You don't have to believe in Christ to join us in this moment of sisterhood. Our focus is love, respect, and a welcoming spirit no matter your belief .
CLICK HERE FOR MORE PAST EVENT RECAP PICTURES
LOCATION & TIME DETAILS
**Timing of the event may change slightly from month to month. Please see email updates and our social media for time confirmation as we draw near.
This is a unique experience and fun interactive session, so come prepared to talk, ask questions (every question is welcomed), and participate.
Each month we host the experience between our PrettiPassionate office and new/fresh locations. Our founder is BIG on beautiful spaces, premium environments, places that feel inspiring, and nurture your soul…so you don't want to miss any of our experiences this year! Each space will be sure to unlock new magic.
The address and location will be released a week in advance (if not sooner) upon your registration. We will be sharing clues on our social media for the chance to win prizes if you guess where we'll be next! Be sure to follow @liveprettipassionate for more
Meet like-minded women of all cultures and uncover cool new spaces in ATL.
This is a space where Kingdom AND culture meets. We ask that you come with an open mind and great energy. We're excited to build with you.
*IMPORTANT* PLEASE READ - After you register for the event, check your email for an email from PRETTIPASSIONATE with the address and all the details you need to know. We will be sending several emails leading up to the event with details. If you do not receive an email, please check your spam folder. Feel free to reach out to info@prettipassionate.com with any questions.
*By signing up for this event you'll become a PrettiPassionate subscriber, which means we'll email you with things we think you'll find valuable - our free videos, workbooks, newsletter, and special offers. We'll never share or sell your personal information. Don't like it? No problem. You can unsubscribe in a click.
Frequently asked questions
What is PrettiPassionate?
Can I attend if I am not a member?
What can I expect at this experience?