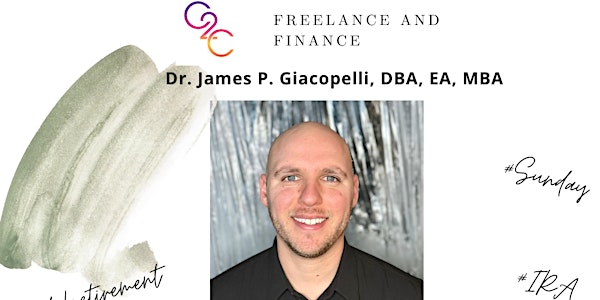 Let's talk Freelance and Finance with Dr. James P. Giacopelli, DBA, EA, MBA
Are you confident about your financial future and tax write-offs? C2C presents the Freelance and Finance Panel with James Giacopelli!
About this event
Hey C2C and Supporters!
Is your retirement secure? Are you confident about your financial future? Are you in danger of outliving your money? By popular demand, we are excited to bring back the Freelancer's Financial chat!
This discussion will focus on topics such as:
How to navigate your money and assets as a freelance artist
Retirement Savings
Tax Savings & Write-offs
ROTH, SEP or Traditional IRAs
Solo 401Ks
Savings and Emergency Funds
Disability Insurance
Life Insurance
S Corp, C Corp & LLC
...and so much more! Experience this informative zoom to help you shape your financial future
GUEST:
James Giacopelli is the President and Managing Member at Giacopelli Accounting, LLC specializing in small to mid-sized business development and tax services. Working as CEO, CFO and COO roles for companies specific to the Arts and Entertainment fields he has a unique ability to cater his financial approach to Artists. Assisting these industries leaders James consistently helps propel his clients to transformational growth through sound tax strategies, and achievement of short and long-term financial goals.
James achieved his Doctorate in Finance, Masters in Business, Bachelor's in Accounting, and is an Enrolled Agent. As an Enrolled Agent, James is a federally-authorize tax practitioner who has technical expertise in the field of taxation and is empowered by the U.S. Department of Treasury to represent taxpayers before all administrative levels of the Internal Revenue Service.
James' expertise includes all manners of accounting and serves on private and nonprofit company boards. James has devoted over two decades to youth athletics and youth education as a mentor, executive and contributor throughout his career.
To better serve you, please email us your questions in advance at callsheets2cocktails@gmail.com.
**********************************
FOLLOW US:
Instagram: @CALLSHEETS2COCKTAILS
Website: www.callsheets2cocktails.com
**********************************
Callsheets 2 Cocktails encourages professionals from all industries to attend their virtual events . We want everyone to be informed. RSVP today!