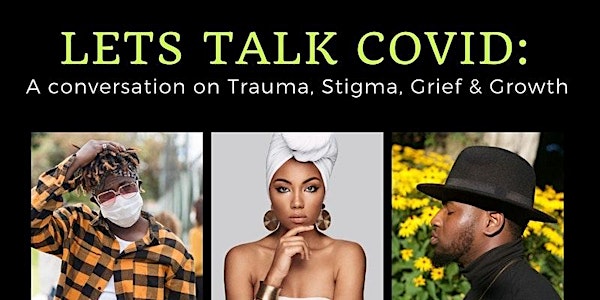 Let's Talk. COVID: A conversation on Trauma, Stigma, Grief, & Growth
Join our panelists and community as we discuss the impacts of trauma, stigma, grief and growth as it relates to COVID-19 and BIPOC.
About this event
Personal invitation from our mental health providers (Mike)
Personal invitation from our mental health providers (Tanya)
Intentions for this space:
May is Mental Health Awareness Month! We will be coming together to talk about race and racism during this pandemic, our feelings and experiences around the COVID vaccination and statewide reopening.
• Make time for conversation about COVID impacted trauma, stigma, grief & growth-including space to discuss feelings surrounding the vaccine and statewide reopening protocols
• Provide a safe space centered around BIPOC and those most impacted by COVID
• Share resources and build community through shared experiences
What to expect:
• Intro (welcome, land acknowledgment) DeAunte Damper
• Panel – 15 minutes (2 questions)
• Discussion – 35 minutes
• Reflection – 5 minutes
• Coping – 25 minutes (community speak out)
• Closing thoughts – 5 minutes (Panel closeout with final words)
DeAunte Damper, Moderator
Damper has focused his work on bringing HIV awareness and LGBTQ-affirming education to marginalized communities through his work with POCAAN as a Peer Navigator. In April 2019, Damper made history as the NAACP's first LGBTQIA Chair, the first in 110 years of the organization. He is Rainer Beach High School's Black Student Union Advisor. Damper also started a support group for young men of color, B.R.O.T.H.A (Blacks Recovering Overcoming Trauma Health and Awareness). Currently, Damper is the co-chair of WA therapy fund and a newly appointed chair BLM Seattle King County
Panelists:
Teri Rogers Kemp, Esq, Black Community Advocate
Teri is a Private Attorney in felony criminal defense and member of many coalitions and committees focused on Police Accountability (NAACP past Chair of the Seattle KC NAACP) and is an advocate in supporting mental health. Teri is a member of the WA Defender Association, serves on the Legislative Committee. Member of the WA State Bar Association, and is a mother extraordinaire. Teri continues to heighten awareness of the U.S. 4th, 5th, and 6th Amendment Constitutional Rights
Kenny Joe McMullen, Community Health Educator
Kenny Joe previously served as a supervisor for Project HANDLE/Neighborhood House at Navos where he recruited and enrolled homeless and underserved, uninsured African, African American and Latinos into HIV, Mental Health and Substance programs. He has also been certified through King County as a Peer Counselor.
Silver Lee, Diversity Equity & Inclusion
Silver works with folks of diverse identities in issues of housing and homelessness and is experienced in facilitating dialogues based on race, gender, and intersecting identities for the School of Social Work at the University of Washington.
Pedro Meza, Ambassador of Love through books and bikes
Pedro's work extends in many directions, from collaborating with healthcare and intersectional sectors to advancing the most imaginative solutions humans are capable of -with love and passion.
Check out our Facebook page: South King Emotional Wellness League (SKEWL) was formed to address the emotional well-being of historically marginalized communities in South King County most impacted by Covid-19 and police violence.