Our nation has been re-awakened to the systemic racism that exists. How do we start to VALUE DIFFERENCE in the workplace... Let's Talk...
About this event
There is still SO MUCH to talk about when it comes to systemic racism and often times there is not a safe space with which to have these conversations, ask questions, self reflect, learn from others and identify the next action step.
Let's Talk...Conversations about Race, Equity & Belonging is a SAFE space for all colors, all races, and all ethnicities in which to grow ourselves and our community to create a more inclusive world.
We ask that you come to the conversation with:
An open heart
An open mind
Respect for others
Confidentiality - when in small breakout groups.
Gandhi said it best when he said:
"Be the change you wish to see in the world".
This platform is an opportunity for all of us to be the change!
So, Let's Talk... and then TAKE ACTION!
Join us every month as we will discuss various topics as it relates to systemic racism, identity, equity, and belonging. We will have guest facilitators, panelists, speakers, along with breakout rooms for more meaningful and intimate discussion and connection.
In November we will discuss what it takes to be an Ally for marginalized identities.
Hear from incredible experts on their experiences not only being an ALLY but an Accomplice in supporting the representation of voices and positions in the workplace and beyond.
Let's Talk....
Join us for our next conversation "DEI UNFILTERED" where you will hear from experts on strategies that can help support you in this space.
Mixed Race - May 2021
Mixed Race- Part 2 - Unintentional Harm - June 2021
Code Switching- July 21, 2021
LGBTQIA+ : August 18, 2021
Overcoming Toxic Work Environments: Sept 22, 2021
DEI - Unfiltered: Oct 20, 2021
Allyship and Beyond: Nov 18, 2021
Mental Health
Hair
Colorism
Privilege
Politics
Bias
See you soon.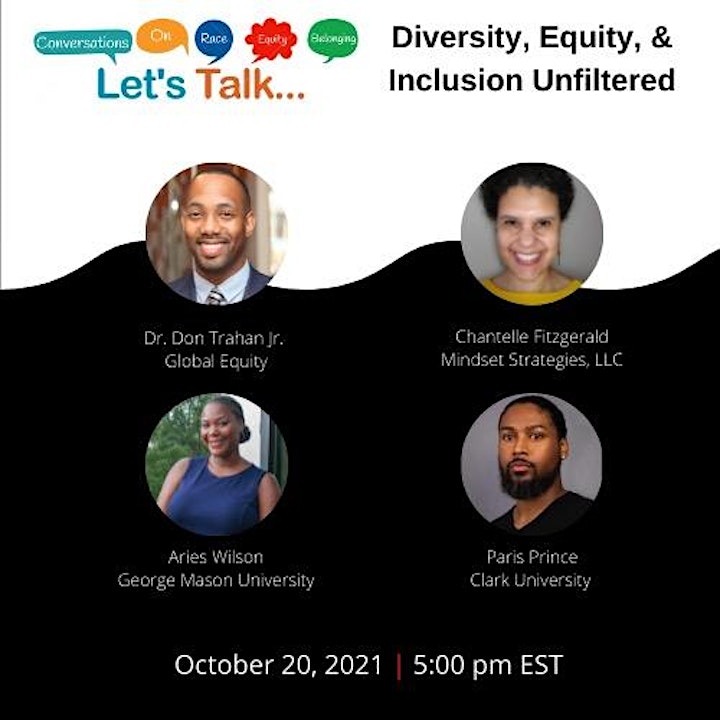 Organizer of Let's Talk... Conversations on Race, Equity, & Belonging
Mindset Strategies, LLC a leadership development  firm that trains leaders to become more effective by being more present. Mindset Strategies has had the opportunity to work with major Fortune 100 companies such as DuPont, Procter & Gamble, SAP, major financial institutions such as Mizuho and RBC, as well as small businesses, school districts and non-profits such as Big Brother's Big Sisters and Wood Services.  The biggest take away participants walk away from at her sessions is the importance of taking a min to arrive, and pausing before reacting. 
Chantelle is a certified mindfulness and emotional intelligence trainer through a program called  Search Inside Yourself -- a program founded out of Google that blends mindfulness with emotional intelligence and neuroscience.