Description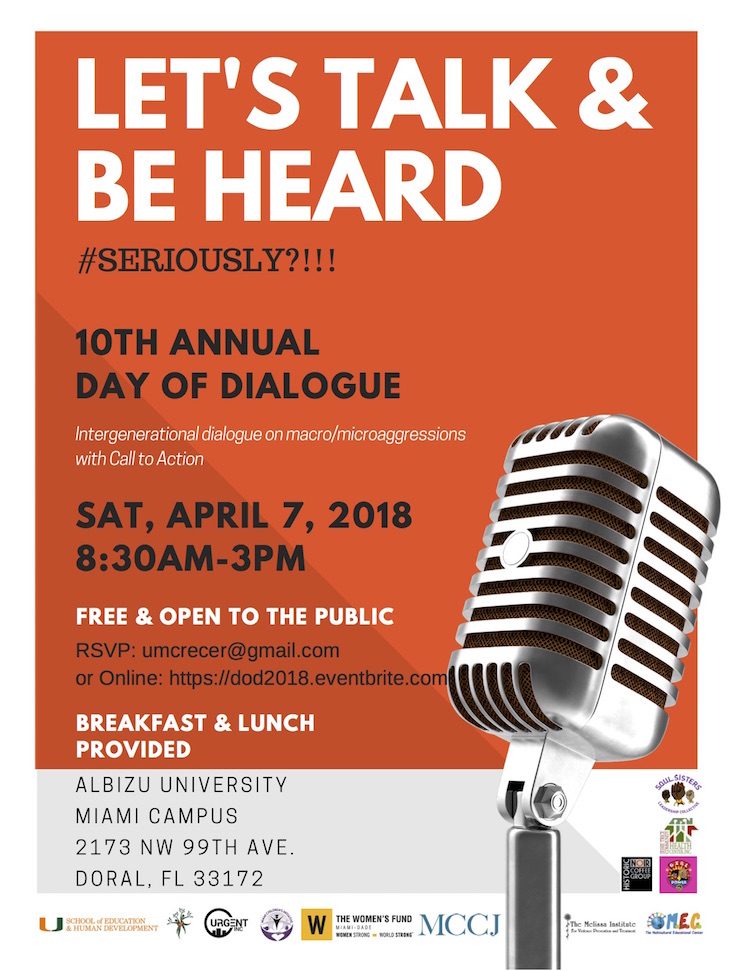 ---

In light of the tragic Parkland shooting we are reminded of the necessity to provide spaces in which youth are given a platform to address issues and concerns in their respective communities. DOD 2018 will be an opportunity for youth to share their concerns and experiences as it relates to macro/microaggressions and the current state of communication between generations. We will end with a call to action for individuals and the Miami-Dade community.
This free community event welcomes high school and college aged (undergraduate and graduate) students, as well as parents, educators, and grandparents. Please join us in this communty dialogue.
Organizer of Let's Talk & Be Heard #Seriously?!: 10th Annual Day of Dialogue:
Derived from the Spanish word "crecer," meaning "to grow," the Challenging Racism & Empowering Communities through Ethnocultural Research (CRECER) team is a community-based participatory research team within the Department of Educational and Psychological Studies at the University of Miami's committed to social justice for ethnic minorities and immigrant populations and seeks to create and sustain intervention programs in schools, neighborhoods and community centers, that address issues often overlooked by society. Our overarching mission is to encourage community empowerment through collaborations and partnerships with local communities and a focus on the strengths of the community.