Let's Talk About Sex…Ethically: Ethical Treatment of Sexual Concerns in Therapy

Friday, July 31, 2015 from 12:15 PM to 3:45 PM (CDT)
Event Details
The Chicago School of Professional Psychology
Presents:
Let's Talk About Sex…Ethically:
Ethical Treatment of Sexual Concerns in Therapy
Friday, July 31st, 2015
12:30pm to 3:45pm
Registration Opens at 12:15pm
325 N. Wells Street
Room 407/412
Chicago, IL 60654
3 APA CEs/ AASECT CEs
The Chicago School of Professional Psychology is located in downtown Chicago and is accessible via public transportation.  For informaiton about parking, click here. 
Workshop Description:
Sexual transgressions with patients is one of the most frequently cited ethics violations. Although mental health professionals are trained to behave in an ethical and beneficent manner, clinicians are less frequently trained about how to address sexual issues when they arise in clinical work. This introductory ethics workshop will explore how to address sexual issues with clients in an ethical manner.
Learning Objectives:
After attending this introductory-level workshop, participants will be able to:
(1) Describe the literature that points to the prevalence of patients who have sexual encounters with their therapists. 
(2) List 3 reasons clients and therapists may experience sexual feelings in therapy.
(3) Identify 3 ways to ethically address therapist and client sexual feelings in clinical settings.
(4) Apply strategies of ethical behavior to case examples using small group and large group discussion.
Professional Bio of Maria Papachrysanthou Hanzlik, PsyD, HSPP, Clinical Psychologist
Dr. Maria Papachrysanthou Hanzlik is a licensed clinical psychologist in Indianapolis, Indiana and is certified as a sex therapist by the American Association of Sexuality Educators, Counselors, and Therapists (AASECT). She obtained her Bachelor of Arts degree at The University of Delaware and both her Masters and Doctorate degrees in Clinical Psychology from The Chicago School of Professional Psychology, Chicago Campus. She has worked in a variety of clinical settings including an inpatient psychiatric hospital, a college counseling center, and a community mental health center before entering private practice. During her graduate studies, Dr. Hanzlik completed a rotation at Loyola University Medical Center's Sexual Dysfunction Clinic and completed her dissertation entitled Say More about That: Assessing Clinical PsyD Students' Level of Comfort Communicating about Sexuality with Clients in an Urban, Midwestern School of Professional Psychology. She co-authored an article published in the American Journal of Sexuality Education that also addressed this very important issue. Dr. Hanzlik has written several articles for professional organization publications including the Indiana Psychological Association and APA Division 42.
Although Dr. Hanzlik treats clients across the lifespan with a wide variety of presenting problems in her practice, one of her primary specialty areas includes sex therapy. Some of the sexuality-related concerns she encounters include sexual dissatisfaction, low desire, pain with intercourse, erectile difficulties, premature ejaculation, difficulty reaching orgasm, compulsive sexual behavior, and sexual abuse recovery. She also works with parents who want to have an open and age appropriate dialogue with their children and adolescents about sexuality but have trouble starting the conversation. In addition to work in sex therapy, an additional area of clinical focus for Dr. Hanzlik is the assessment and treatment of trauma for children, adolescents, and adults. Dr. Hanzlik commonly conducts trainings and workshops on sexuality-related topics for local mental health professionals and medical students and has presented for the Indiana Psychological Association, the Butler University Pre-Doctoral Internship Program, and the Indiana University School of Medicine. Dr. Hanzlik is also a member of APA Division 56 (Trauma Psychology) and ISSTD (International Society for the Study of Trauma and Dissociation).
Workshop Schedule:
12:15pm: Registration Opens
12:30pm: Workshop Begins
1:50-2:05: 15-Minute Break
3:45pm: Workshop Ends
Registration and Fees:
General Admission: $80.00
TCSPP Faculty/Staff/Alumni/Current Site Supervisor Admission: $40.00
TCSPP Student Admission: $15.00
Non-TCSPP Student Admission: $20.00
2-Day Registration (Includes admission to "Fostering Healthy Sexual Function" on 8/1):
2- Day General Admission : $175.00
2-Day TCSPP Faculty/Staff/Alumni/Current Site Supervisor Admission: $85.00
2-Day TCSPP Student Admission: $30.00
2-Day TCSPP Non-TCSPP Student Admission: $45.00
Refund Policy:
75% of tuition is refundable up to 7 days before the program.  Within 7 days of the program, tuition is nonrefundable.
References:
(1) Pope, K. S., Keith-Spiegel, P., & Tabachnick, B. G. (1986). Sexual attraction to clients: The human therapist and the (sometimes) inhuman training system. American Psychologist, 41(2), 147-158.
(2) Barnett, J. E. (2014). Sexual feelings and behaviors in the psychotherapy relationship: An ethics perspective. Journal of Clinical Psychology, 70(2), 170-181. Doi: 10.1002/jclp.22068
(3) Watter, D. (2012). Ethics and sex therapy: A neglected dimension. In P. J. Kleinplatz (Ed.), New directions in sex therapy: Innovations and alternatives (2nd ed., pp. 85-99). New York, NY: Taylor & Francis Group, LLC.
CONTINUING EDUCATION:
Target Audience: All mental health professionals.
Psychologists. This program, when attended in its entirety, is available for 3 continuing education credits. The Chicago School of Professional Psychology is committed to accessibility and non-discrimination in its continuing education activities. The Chicago School of Professional Psychology is also committed to conducting all activities in conformity with the American Psychological Association's Ethical Principles for Psychologists. Participants are asked to be aware of the need for privacy and confidentiality throughout the program.  If program content becomes stressful, participants are encouraged to process these feelings during discussion periods.  If participants have special needs, we will attempt to accommodate them.  Please address questions, concerns and any complaints to Moira Jackson at 312-467-2364. There is no commercial support for this program nor are there any relationships between the CE Sponsor, presenting organization, presenter, program content, research, grants, or other funding that could reasonably be construed as conflicts of interest.
Non Psychologists: Most licensing boards accept Continuing Education Credits sponsored by the American Psychological Association but non-psychologists are recommended to consult with their specific state-licensing board to ensure that APA-sponsored CE is acceptable.
*Participants must attend 100% of the program in order to obtain a Certificate of Attendance.

This program meets the requirements of the American Association of Sexuality Educators, Counselors and Therapists (AASECT) and is approved for 3 CE Credits.  These CE Credits may be applied toward AASECT certification or renewal certification.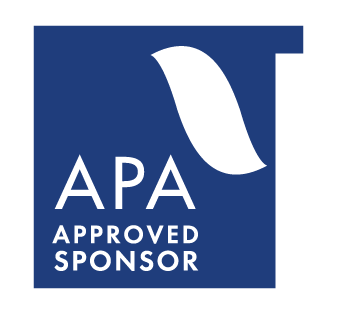 The Institute for Professional & Continuing Studies at The Chicago School of Professional Psychology is approved by the American Psychological Association to sponsor continuing education for psychologists. The Chicago School of Professional Psychology maintains responsibility for this program and its content.
When & Where

The Chicago School of Professional Psychology
325 N Wells St
Rooms 407 & 412
Chicago, IL 60654


Friday, July 31, 2015 from 12:15 PM to 3:45 PM (CDT)
Add to my calendar