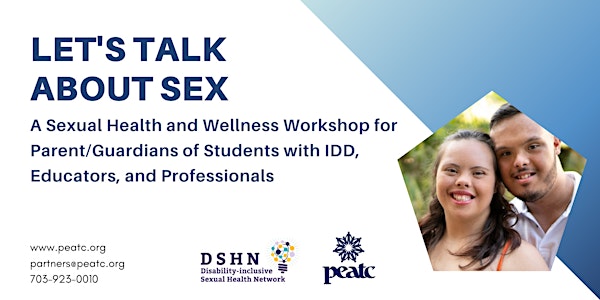 Let's Talk About Sex: Sexual Health and Wellness Training
A Sexual Health and Wellness Workshop for Parents of Virginia's Students with IDD. Also open to educators and professionals.
About this event
THIS WORKSHOP IS FOR VIRGINIA PARENTS, GUARDIANS, AND FAMILY MEMBERS OF YOUTH WITH DISABILITES. IT IS ALSO OPEN FOR EDUCATORS AND PROFESSIONALS.
Individuals with intellectual and developmental disabilities (IDD) are often not included in discussions around sexual health and wellness. In fact, many people don't view individuals with IDD as sexual beings. We are all sexual beings.
It is critical for youth with disabilities to develop self-care skills, cultivate social skills, gain an understanding of appropriate behaviors, increase personal safety, and work toward becoming a more independent adult.
This training will provide information for parents/guardians of students with IDD and the professionals that work with them to offer practical tools and strategies along the journey.
THIS TRAINING HAS 2 SESSIONS. REGISTRANTS SHOULD PLAN TO ATTEND BOTH THE FEBRUARY 8th AND FEBRUARY 9th SESSIONS.