PEATC presents Let's Talk About Sex: A Sexual Health and Wellness Workshop for PARENTS/GUARDIANS of Virginia's Youth with Disabilities.
About this event
THIS WORKSHOP IS FOR VIRGINIA PARENTS , GUARDIANS, FAMILY MEMBERS OF YOUTH WITH DISABILITES. THERE WILL BE FUTURE WORKSHOPS FOR PROFESSIONALS.
THIS TRAINING HAS 2 SESSIONS. REGISTRANTS SHOULD PLAN TO ATTEND BOTH THE JANUARY 24th AND JANUARY 31st SESSIONS.
If you find it uncomfortable to talk with your child about sexuality and puberty, you're not alone. Most parents do. However, being comfortable talking about this with your child is so important, as these conversations are critical to your child's health and safety. They help your child with a disability develop self-care skills, cultivate social skills, gain an understanding of appropriate behaviors, increase personal safety, and work toward becoming a more independent adult.
Parents know their children best and are the ones who determine when and what information their child needs regarding sexual health. This training will provide information for parents/guardians and offer practical tools and strategies you can use along your child's journey to adulthood.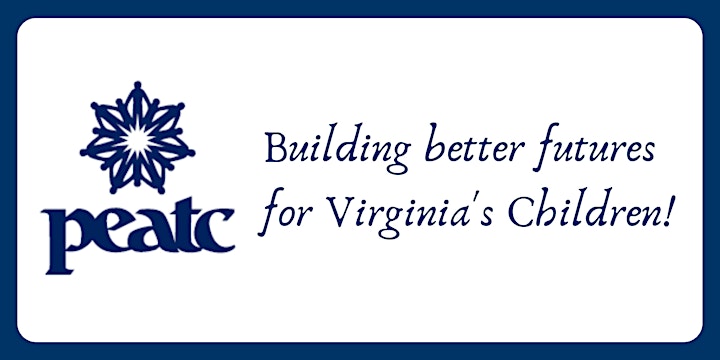 Organizer of Let's Talk About Sex: Sexual Health and Wellness Training
The Parent Educational Advocacy Training Center (PEATC) is a statewide non-profit organization that strives to empower students and self-advocates to create positive futures for Virginia's children by working collaboratively with families, schools and communities in order to improve opportunities for excellence in education and success in school and community life. Our special focus is children with disabilities.