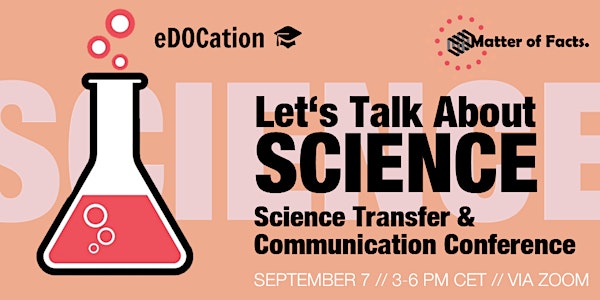 Let's Talk About Science - Science Transfer & Communication Conference
Science Transfer & Communication Conference
About this event
Join the discussion! The science start-ups eDOCation from Cologne and Matter of Facts from Münster cordially invite you to the digital conference about science transfer and science communication on September 7, 2022 (3:00 p.m. - 6:00 p.m. CET) via ZOOM (you will receive the link in a separate e-mail prior to the event).
After two short intros of eDOCation and Matter of Facts (15:00 - 15:30) we wil discuss the following topics in two panel discussions:
"How to Change Business with Science" (15:30 - 16:30)
"Science Communication That Sticks" (16:40 - 17:40)
We will end with an open discussion of how especially young scientists can make an impact on society and business.
Here is a selection of our panelists:
We are looking forward to seeing you soon! In the meantime, follow eDOCation and Matter of Facts on LinkedIn!