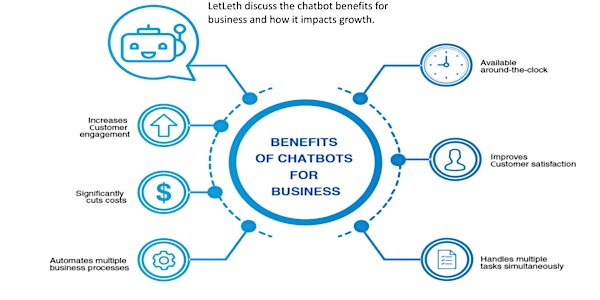 Multiple dates
Let's talk about growing your business using chatbot
Let's talk about growing your business using chatbot
By Grow your business using chatbot!
Date and time
October 29, 2020 · 7am - June 29 · 8am PDT
About this event
. Better lead generation and nurturing
Most of the businesses operate in an omnichannel model. They sell across the website, Facebook, and other channels. AI chatbots create an effortless way for customers to communicate with your business via existing messaging platforms such as Facebook Messenger, which recently passed 1.3 billion users.
2. Deliver 24×7 automated customer support
Nobody likes to wait and so do customers. 62% of companies view customer experience delivered by a brand as a competitive differentiator. Bots can engage with the customers 24×7 by promptly responding to their common queries.
3. Save customer service costs
Reports say every year there are 265 billion customer requests. Businesses spent nearly $1.3 trillion to service these requests. Chatbots can help you save up to 30%.
4. Increased customer engagement
Needless to say, how vital it is to keep your customers engaged with your brand. Bain & Company research says, "Businesses that successfully engage with their customers were able to increase the customer spend by 20% to 40%."
5. How do chatbot benefits businesses in saving time?
Bots automate information-based queries so that agents can spend more time on crucial issues that need human support.
Chatbots are available 24*7 to deliver instant responses even when the human support not around.
Bots make it easy for customers to make a purchase or book an appointment without waiting for human assistance
6. Better team productivity
Chatbots are integral to the shift from human to automated customer services for every business. By 2020, 85% of customer interactions will be handled without a human agent. Bots will not replace human agents completely instead they will allow delivering primary support that filters customer requests before it is directed to the support agents.
7. Higher customer satisfaction
Generally, businesses tend to provide reactive customer support like phone and email. It means when customers report their problem, only then they respond without initiating communication from their side.
Chatbot for businesses is the future
There are more chatbot benefits and advantages than disadvantages. Chatbots are being used across businesses for customer service, sales, marketing and engagement. It is essential to understand and identify the areas and start deploying chatbots now