Let's Sketch Tech! MAY 2021 monthly meetup
What kind of code artist are you?
Refund Policy
Contact the organizer to request a refund.
Eventbrite's fee is nonrefundable.
About this event
Are you ready to bring more art into the tech you build?
I'm guessing you got into tech for the paycheck and/or career opportunity, but dealing in 1's and 0's all day doesn't exactly feed your soul and it's easy to feel out of the place when the dudes around you all started coding when they were toddlers.
But what if building software could feed your soul and give you a sense of belonging?
Building software is a creative process requiring creative individuals. Memorize all the syntax you want, it won't help if you can't understand the problem you're looking at and how to get your brain to dance with it. Artistic metaphor intended.
The great thing is that you probably already have some of these skills, especially if you started in a field other than tech. We'll add that to some knowledge about creative process:
Learn what a creative process looks like and how this maps to building software
Learn why it's important to understand the role of chaos for making things.
Learn the foundational pieces of an artistic practice and how to use those to level-up in tech.
Learn why tech needs your particular blend of artistic talent and how to get in touch with your inner code artist.
Are you the person who started coding when you were a toddler?
You still need to know how to connect with people around you to solve difficult problems. If you spent years in a CS program, guess what you weren't learning:
How to collaborate on a large project, like putting on a theatrical play.
How to draw so that you can draw out a problem in a way that makes sense to you and others
How to write so that your teammates understand what that writing means whether it's in the team slack or writing up a bug.
Have fun doing hands-on activities that translate to your daily work. Your facilitator, Marlena Compton worked for many years in the tech industry and understands what it's like to sit at your desk, staring at a pull request or feature spec.
A Pear Conf Crossover
Pear Conf is an inclusive software community based on a love of pair programming and other software practices that go with it such as test-driven development and continuous deployment. This meetup is designed to bring these ideas about collaborating to build software together with the "Let's Sketch Tech!" emphasis on using art for communicating and solving technical problems.
But my attention span!
We really get it, and ours isn't much better. If the meetup is at an inconvenient time or you've reached your zoom limit for the day, we have a "Watch-it-later" ticket just for you! (You might even get a special shout-out in our video!)
Tools for the job...
Wondering what kind of pen or paper to bring? Order a sketch-it kit before the meetup and you'll have a set of pens, paper and an adorable "Let's Sketch Tech!" carrying case. Learn how to use them at our meetup and take them to your next tech conference for some practice!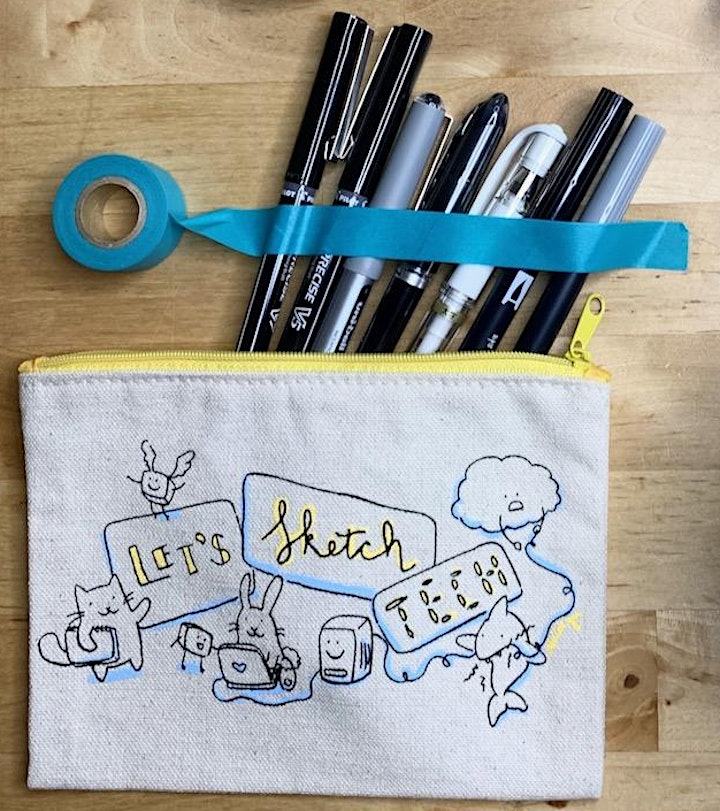 Who this is for
This meetup is for anyone who wants to up their self-learning game or anyone who wants to bring more creativity to their tech practice.
What you can expect
This is a 1 hour zoom meetup facilitated by Marlena Compton including a short talk with slides and a breakout session or two. A recording is posted to the event page after the meetup. You'll receive a worksheet with a few questions to think about before we gather together.
All attendees are required to abide by the Appear Works Code of Conduct.
Where the money goes
Tickets are $10.00 with all proceeds from ticket sales going to The Okra Project.
Organizer
Marlena Compton is a sketch-noter, software developer and the organizer of Let's Sketch Tech! Marlena's agile hat-trick of working for IBM, Pivotal and Atlassian, has left her with a life-long appreciation for quality code, empathy and working together as a team. As the CE❤️ at her company, Appear Works, she organizes tech events to help you level-up, get promoted and recover from burnout.