Let's Raise Our Frequency - An Experiential Workshop in Omaha, NE
Description
Let's Raise Our Frequency ~ An Experiential Workshop on the Role of Frequency in Our Lives
(We are also offering our 333 Tibetan Healing Bowl Experience on Aug. 3rd, see https://omaha333.eventbrite.com )
Join Dr. DREAM (Omaha native, Mark Peebler) and Stephanie as they facilitate this experiential workshop exploring the practical role of frequency in our lives. Dr. DREAM believes that "Life is a game…a frequency game". Learn how to play "the game" at the highest level. What does it take to shift energies and to continue our expansion into the ascension process with grace and ease? Come explore the energies of life with us! Of course, this workshop includes; Tibetan Healing Bowls, Raw Cacao, Essential Oils and so much more.
On each participant's chair, we will have a Tibetan Bowl from the Gilung & Sindupalachoka Villages in Nepal. We are supporting these villages in recovering and rebuilding their homes after the 2015 earthquake. Be a part of this truly expanisve workshop, using these hand crafted sound tools that will wash over your being and expand your consciousness, along with solid information and research on the role of frequency in our lives.
There will be bowls available for sale also.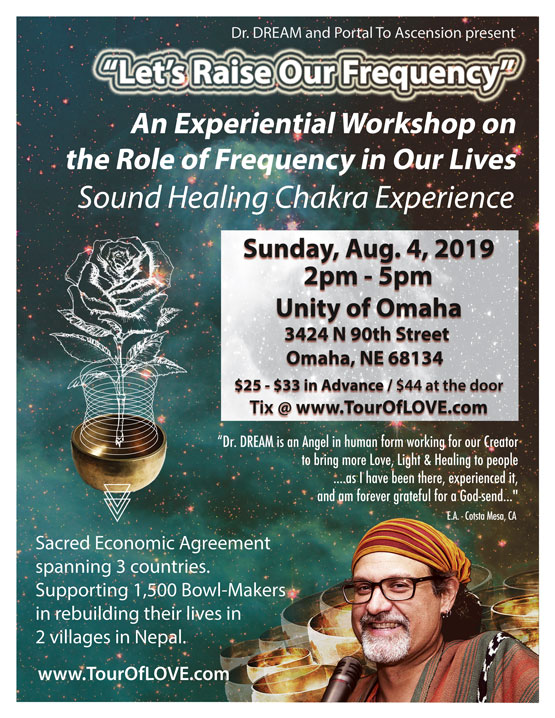 As one testimonial shares: "Dr. DREAM is an Angel in human form working for our Creator to bring more Love, Light & Healing to people ....as I have been there, experienced it, and am forever grateful for a God-send..."
The modalities that are included in this experience are:
the ROSE Frequency
Master Healer grade Tibetan Bowls
Raw Chakra Chocolates
Sound healing
Citrine Generator Crystal
Essential Oils
3 hours
$25 - $33 in advance
$44 at the door