Description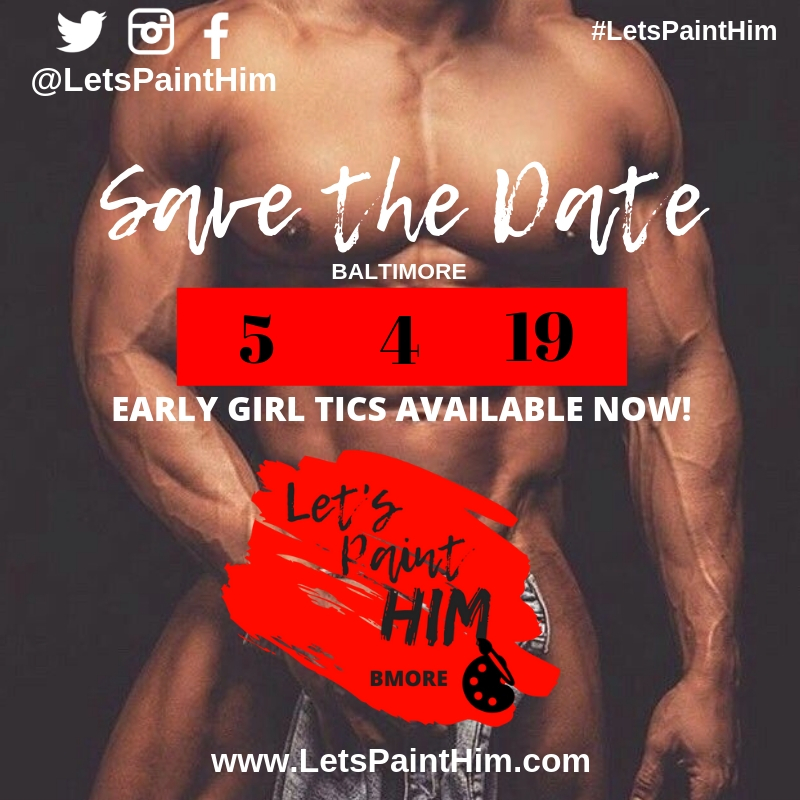 Let's Paint Him BMORE will take place Saturday, May 4, 2018 at 7:00pm. LPH BMORE will be hosted by Creator Tamiko T and feature several fabulous highlights such as a handsome nude male model, a groovy soundtrack to hype the boutique style club atmosphere and LPH's Signature Cocktails.
LPH will begin with a mix and mingle segment, ladies can network, interact, get tipsy and let loose. Following the mix and mingle segment all attendees will then be instructed on how to sketch and tap into their artistic creative sense. Once sketched, attendees will then…PAINT HIM on their provided canvas.
CELEBRATING Birthday? Bachelorette or Engagement? Divorce? Ladies Night Out? Graduation? Retirement? Or just want to experience a fab time…LET'S PAINT HIM is your destination.
JOIN US FOR A MODERNIZED SIP & PAINT FOR ADULTS ONLY!
LETS PAINT HIM BMORE INCLUDES:
ü Paint Canvas
ü Paint
ü Paint Brushes
ü LPH Dessert Bar

LPH is a mature ADULT ONLY event. ALL attendees must be at least 21 years of age. Valid ID required upon check in. Tickets must be purchased in advance. Due to the nature of the event there will be NO tickets sold at the door as the location will ONLY be disclosed upon ticket confirmation.
To maintain a mature and intimate atmosphere there will only be a limited amount of tickets sold. GET YOUR TICKETS NOW!

LPH also has several packages available for groups exceeding 6+. Contact us for more details.
For more information, visit our website www.LetsPaintHim.com. For questions or to reserve your party email us at LetsPaintHim@gmail.com.
#LetsPaintHim #LetsPaintHimBMORE