Description
We would like to invite you to our 8th annual MAKING MUSIC BEING WELL HONG KONG in August 2018!
Making Music Being Well Hong Kong, inaugurated in 2006 in Australia and extended to Hong Kong in 2011, is a non-profit campaign that aims to celebrate the links between active music making, and health and well-being across the life span. This is the eighth time this event being launched in Hong Kong. Over the past 7 years, free events like workshops, seminars and performances are organized to raise participants' awareness about music therapy, and promote the health benefits of music-making.
This year, we will be conducting a concert on "Let's Make Music!" where we will invite client groups to perform and share with the audience how music has enriched their lives and made them well.
You will get the chance to see
how the tetraplegic patients learn to play the harp,

how the cancer patients learn to compose their own song,

how clients with special needs can play in band,

how the elderly learn to play an orchestral instrument, &

how the stroke patients learn to sing in a choir.
Come join us for a day of visual and experiential learning to deepen your understanding of music therapy!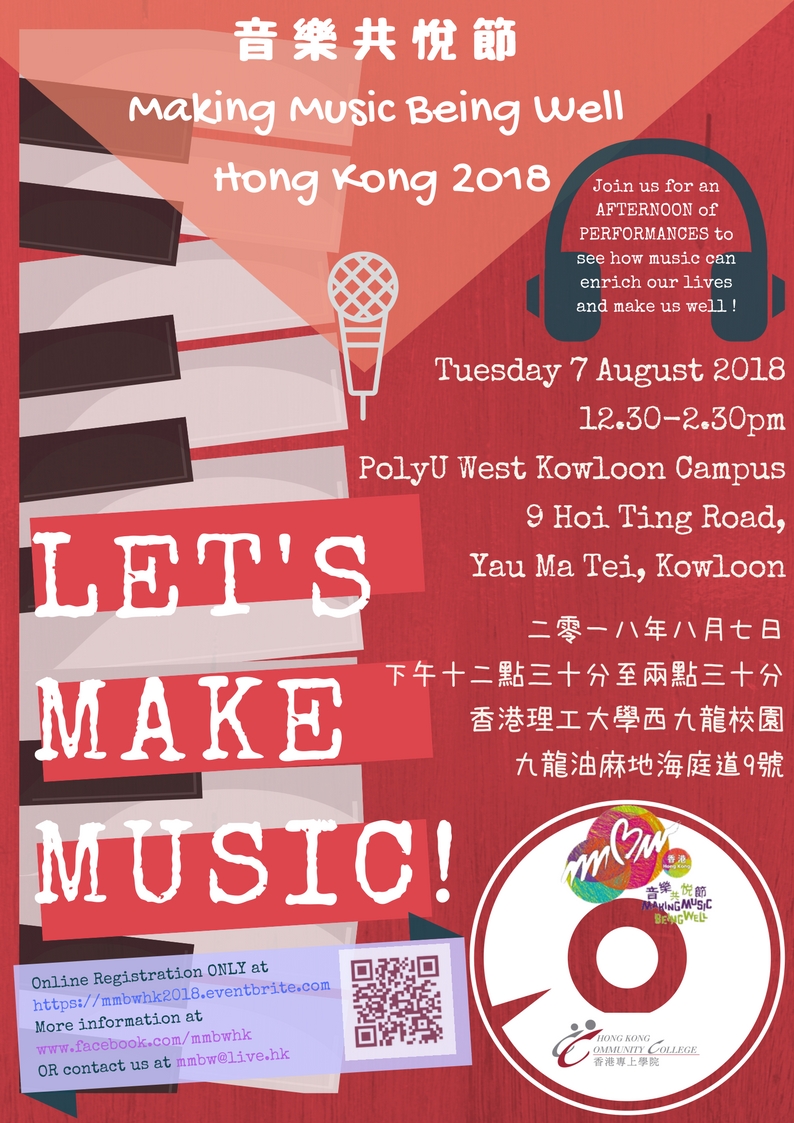 Here are the details
DATE: TUESDAY 7 August 2018
TIME: 12.30-2.30PM
VENUE: PolyU West Kowloon Campus,
Lecture Theatre N203, 2/F., North Tower,
9 Hoi Ting Road, Yau Ma Tei, Kowloon
COST: Free Admission (by reservation only)
LANGUAGE: Cantonese
THIS CONCERT IS FREE ADMISSION WITH LIMITED SEATS
PLEASE REGISTER EARLY TO AVOID DISAPPOINTMENT
For more information about our campaign, please refer to www.facebook.com/mmbwhk or contact us at mmbw@live.hk
==================================================================
我們誠意邀請您參與我們第八屆的香港音樂共悅節。香港音樂共悅節將於2018年8月舉行『齊來玩音樂!』音樂會 。澳洲、英國、加拿大及美國註冊的音樂治療師會將會帶領受助者表演,分享音樂怎樣為他們提升身心健康,帶領觀眾親身感受音樂治療中的體驗。
你將會體驗到:
癱瘓人士如何學習豎琴

癌症病人如何學習寫歌

特殊需要人士如何在樂隊一起玩音樂

金齡人士如何學習西方管弦樂器

中風病人如何在合唱團學習唱歌
以下是我們音樂會的詳細資料:
日期: 二零一八年八月七日(星期二)
時間: 下午12:30 - 2:30
地點: 香港理工大學西九龍校園
九龍油麻地海庭道9號
費用全免 (敬請預約)
音樂會以粵語講授
音樂會費用全免, 名額有限,敬請預約。
要獲取更多有關香港音樂共悅節的資訊,歡迎登入我們的網頁 http://www.facebook.com/mmbwhk 或電郵 mmbw@live.hk