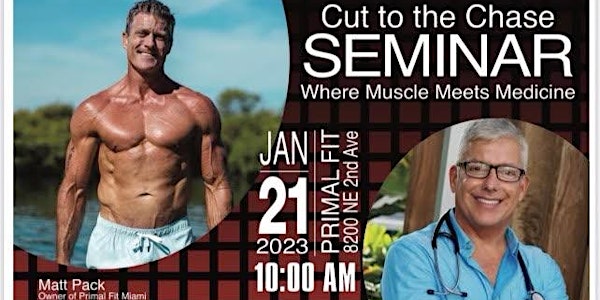 Let's Make 2023 Your Healthiest, Leanest and Best Year Ever! + Free E-Book
Free Health & Wellness talk, Let's "Cut To the Chase", join Dr. Sanchez & I to help make 2023 your healthiest, leanest and best year ever.
When and where
Location
Primal Fit Miami 8200 Northeast 2nd Avenue Miami Shores, FL 33138
About this event
Matt Pack w/25 Years of Experience will break down his newest eBook as well as:
1) How to get off of the diet roller coaster
2) The #1 habit to long term weight loss
3) Learning how to shop and cook for sustainable weight loss
4) How to have your "cake and eat it too" while still seeing progress
5) The myth of using exercise to get the body of your dreams and what really works
Dr. Sanchez w/ 25 years of Experience will blow you away with his knowledge on the break throughs in medicine that compliment diet and exercise like:
1) Hormone Replacement Therapy
2) Peptide treatments for weight loss
3) Weight loss and hormones
4) IV therapy
It's time to "Cut to The Chase" and simplify improving health and losing weight once and for all. You also get my new E-book Cut to The Chase for FREE just for showing up!
Hope to see you there, you're worth it, you deserve it and you can do this.🙌💪Who's got your back?
Matt Pack is the owner of Primal Fit Miami (www.primalfit360miami.com) located between Miami Shores and El Portal. He's helped 1000's over the last 25 years achieve their Health & Wellness goals. Matt is certified and variety of health, fitness and wellness programs to help his clients. His private and semi private training facility has over >>300 FIVE STAR Review
Dr. Carlos Sanchez is board-certified in emergency medicine. He received his medical degree from Nova Southeastern University and completed his residency in emergency medicine at Newark Beth Israel Medical Center in New Jersey. Dr. Sanchez began practicing emergency medicine in 1998. He recently completed his Board Certification with the Academy of Anti Aging Medicine. His focus is in on Bio Identical Hormone replacement therapy, Nutritional Replacement, Detoxification and Weight Management.
Anyone and Everyone is welcome! Please share this link with friends and family so they can come too: https://www.eventbrite.com/e/502589587987