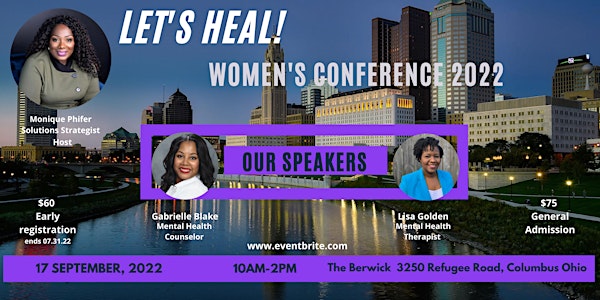 LET'S HEAL! WOMEN'S CONFERENCE 2022
Ladies!!! We are excited to gather again for "Healing from the Inside Out 2022". This year we have shortened the name to LET'S HEAL!
When and where
Location
The Berwick Banquet & Catering 3250 Refugee Road Columbus, OH 43232
About this event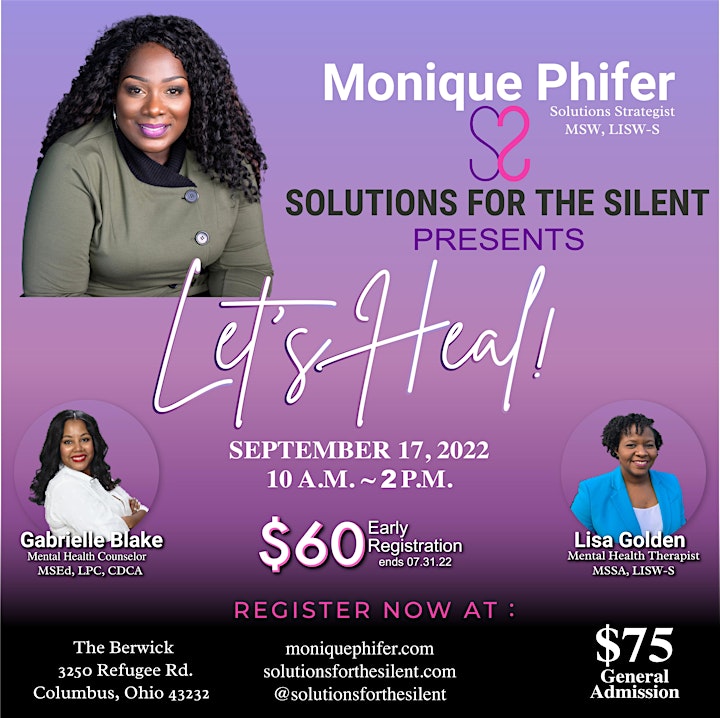 Let's Heal is a declaration amongst women that we do not have to live in emotional bondage any longer. It is a statement that no matter what, we will do the inner work to have an extraordinary life. Let's Heal 2022 provides women a place of refuge from guilt, shame, and pain that has held us back from living in our authenticity. It is a meeting place where women young and old will gather to go on a path of inner healing, renewal, personal forgiveness, inspiration, direction, and transformation.
Let's Heal 2022 is meant to help women declare that they were born for a purpose. Despite all they have been through, they deserve to live extraordinary lives. Let's Heal 2022 will remind some and inform others that they do matter. There is hope amid their despair. Each speaker will utilize their clinical expertise and personal experience to guide them to their breakthrough.
It is crucial that you are intentional about the transformation you want to receive. Are you ready to make your life a priority? Are you willing to lean in and allow yourself to heal from the inside out? Will you take the journey with us to unlock yourself from the limiting beliefs that this is all that life has to offer? If you said yes, even a maybe then this conference is for you. We hope to see you there.
Your registration includes:
Brunch prepared by The Berwick
A Healing Home Kit valued at $50
A downloadable Healing Workbook valued at $25
An atmosphere of peace, acceptance, and transformation - priceless
Meet the Host
Monique Phifer is a dynamic speaker, trainer, educator, and therapist with over 25 years of experience in the fields of social work and mental health services. She utilizes her compassion, dedication, and drive to improve and elevate many lives. Her thorough and evolutionary expertise has allowed her to serve in various roles in the public and private sectors of social services. These crucial roles include serving as a therapist, case manager, consultant, workshop facilitator, lecturer, mental health therapist and solutions strategist. In 2015, Monique's commitment to fervent service and transforming lives; led her to create Solutions for the Silent LLC. It is a personal development company that offers mental health counseling, life coaching, and training. In addition, she implemented "Healing from the Inside Out Women's Conference." It centers on enriching the minds, bodies, and souls of women. The Conference was such a success that it has evolved into an annual event. Monique's life mission and business model is to help transform lives; one conversation at a time. Her educational accolades include a bachelor's degree in Psychology from Youngstown State University and a master's in Social Work from The Ohio State University.
Meet the Speakers
Gabrielle Blake has over 15 years of experience helping underprivileged and underserved teens and youth of color in her home the Youngstown/Warren area and internationally. One of her earliest initiatives is going on a mission trip to South Africa to spread the word of God. After obtaining her bachelor's degree, she worked at Youngstown State University as the Coordinator for Upward Bound she received many awards for her work. In 2013 she was A.R.M.S. Award for Access for developing creative programming to help Upward Bound students access higher education. Gabrielle was also awarded The Louis M. Brownlowe New Professional Award for having contributed to the foundation of and continued success of the goals and objectives of OHIO TRiO in 2014. After serving at Youngstown State University for 5 years as a social-emotional coordinator, she felt called to begin to address the deeper need that began to emerge- mental health. Gabrielle pursued an education in clinical mental health and addiction counseling. She has a Bachelor of Arts in International Relations from Kent State University. Gabrielle graduated summa cum laude Masters of Science in Education in Clinical Mental Health and Addiction Counseling from Youngstown State University. Gabrielle was born and raised in Ohio in the Warren/Youngstown area. She is a passionate advocate for the mental health of her community. Gabrielle is a proud member of Alpha Kappa Alpha and a former Jack and Jill mom. She is also a member of Chi Sigma Iota-Counseling Academic and Professional Honor Society International. She splits her time between working with her clients at her private practice, and speaking engagements. Gabrielle's highest calling is raising her children and being a wife to her loving husband.
Lisa Golden is a skilled clinician, program administrator and trainer with 20 years of experience working with children, families and professionals. She currently leads OhioMHAS's Infant and Early Childhood Mental Health Initiative "The Whole Child Matters". In this role, Lisa coordinates statewide programs and services to promote the mental health and wellness of infants, young children and the adults that care for them. Lisa provided a range of treatment and prevention services for over a decade at Nationwide Children's Behavioral Health. As a therapist, focusing on clinical interventions to mitigate the impact of adverse experiences in childhood and as a supervisor, supporting services to promote children's mental wellbeing. Lisa led the Early Childhood Mental Health Consultation Team that provided evidenced based classroom consultation and training to early childhood programs across Central Ohio. Additionally, Lisa aided in the development and implementation of the Ohio Preschool Expulsion Prevention Partnership, a Whole Child Matters program component aimed at reducing expulsion in early childhood settings. An engaging speaker and trainer, she uses her bold personality and experiences to bring about dynamic conversations on topics related to diversity, children's mental health, and adult wellness. Lisa is a licensed supervising social worker and holds a Master's of Science in Social Administration (MSSA) from Case Western Reserve University, and a Bachelor's in Social Work from Capital University. Lisa brings extensive experience providing therapeutic interventions to children and families, providing community education and developing innovative programs to move toward healthy social- emotional development and wellness.