Sales Have Ended
Registrations are closed
Thank you! We will let you know whether you were selected or not by June 9th.
Sales Have Ended
Registrations are closed
Thank you! We will let you know whether you were selected or not by June 9th.
Let's go to the movies to support In The Heights
About this event
We're buying out a theater to support the opening weekend of the film In The Heights and we want you to join us!
Opening weekend ticket sales are critical to a film's success. In the Heights is a rare film in which the cast and crew include a strong Latino presence.
We're happy to partner up with Caribeña Creatives and The Rabble. There will be an after-party hosted by actress Chelsea Rendon (Vida, Shameless)
If you're not able to attend please make sure to support the film on opening weekend by buying a ticket or renting it on HBO Max.
Space is limited. Please RSVP and we will notify you if you're selected for a ticket.
We're grateful to our sponsor ASU Film Spark in The Sidney Poitier New American Film School at ASU's Herberger Institute for Design and the Arts for making this event possible.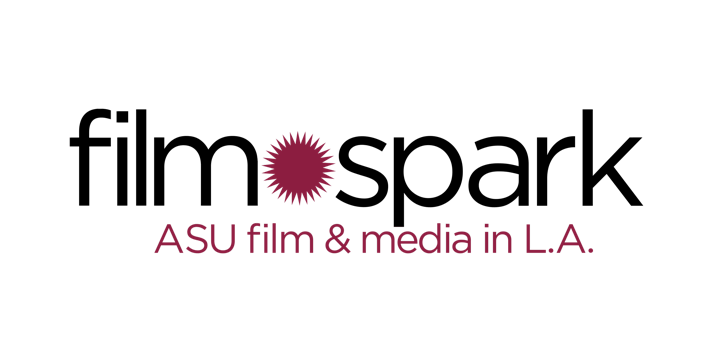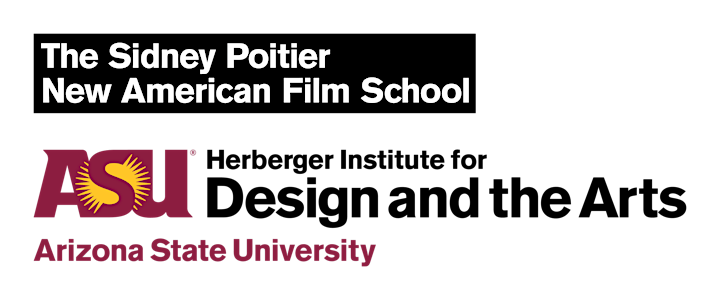 ASU Film Spark Known as the ASU Embassy in Hollywood, Film Spark helps Arizona State University students and alumni realize their dreams of working in the entertainment industry. Film Spark also helps the industry by delivering executive education, thought leadership, partnerships, and innovation, all in accord with ASU's deeply held commitment to access and inclusion.
The Sidney Poitier New American Film School in the Herberger Institute for Design and the Arts at Arizona State University is dedicated to training the next generation of cinematic storytellers, digital media artists, and innovators of the imagination. With a foundation in ethical and collaborative creative practices, hands-on instruction with industry-standard technology, and focused pre-professional training and career planning, we aim to be the most inclusive, most affordable, and most innovative film and media production program in the country. Our award-winning faculty combines years of industry success with a passionate commitment to teaching and student success, and our graduates jump-start their careers through engagement with Film Spark, our Los Angeles-based industry relations hub. In The Sidney Poitier New American Film School, each student's unique creative vision and career aspirations are brought to life, giving voice to communities, stories, and ideas that can be shared and treasured on screens in cinemas, in our homes, or in the palms of our hands.
Caribeña Creatives founded by Creator and Producer Marilyn Camacho, a boutique multi-cultural production company of women creatives dedicated to producing content that highlights the beauty and complexities of the Latin & Afro-Caribbean diaspora.
The Rabble is a production company Co-Founded by Latinx Development Executive and Producer Lynette Coll. We support new voices, diverse creators, the voices of our neighbors, and the people in our communities. We thrive on stories that connect, engage, disarm, activate, and unite. We are the rabble, and we stir the masses.
Chelsea Rendon Born and raised in Montebello, California, Chelsea Rendon has been a working actress since the age of six. Her first role was a lead in the feature film No Turning Back, which won the Alma award for Outstanding Independent Feature Film in 2002. Recipient of a Young Latinos In Hollywood award, Chelsea has been known to portray dominant roles for over a decade. Most recently, she is recognized for her role as a young "woke" activist 'Mari' in STARZ's hit drama Vida. The series premiered to stellar reviews and was named one of the top shows from 2018 to 2020, receiving 100% on Rotten Tomatoes. One of the fan favorites, Chelsea's character is from the Eastside of LA where Chelsea herself grew up. Chelsea was born for drama on television. At a young age her television work kicked off with guest roles on E.R., The Shield, and Judging Amy. She went on to recur on Freeform's The Fosters and the hit Showtime series Shameless.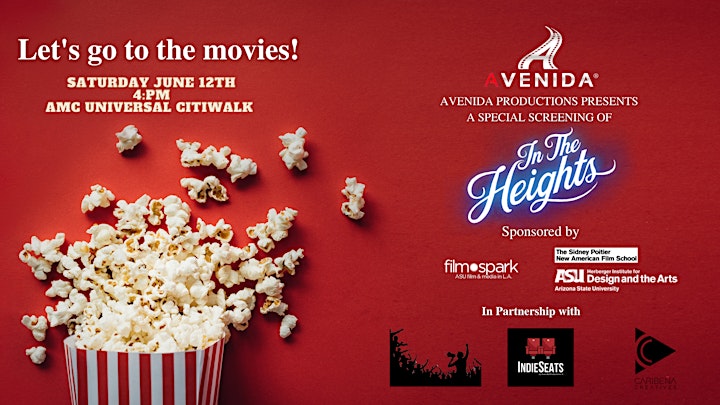 Organizer of Let's go to the movies to support "In The Heights"
About Avenida: We are the new avenue into Hollywood. Avenida is committed to empowering independent filmmakers from under-represented communities to bring their projects to fruition. The traditional Hollywood model is designed to be exclusive. With Avenida fiilmmakers can crowdfund, produce, and self-dritibute, cutting out the middle man and connecting directly to their audience. To date, we've helped raise millions and our clients have received major awards and distribution deals. Our motto is #CreateYourAvenida