Multiple Dates
Let's Go Native…In Our Garden!
Description
10am - 11am Volunteers established this garden to provide critical habitat for songbirds and butterflies, and to demonstrate how to garden for wildlife using beautiful California native plants, without the use of herbicides. It contains mature specimens of Ceanothus, fuchsia-flowered gooseberry, pink flowering currant, buckwheat, toyon, and black sage in a naturalistic setting. Among trees, look for California buckeye, western sycamore, Fremont cottonwood, coast live oak, and alder. Join us for a walk and talk.
11am-12:30pm The North American monarch butterfly and its phenomenal migration are in trouble, but we can help! The Service is busy this spring developing monarch habitat by seeding and planting milkweed. Why milkweed? Milkweed is the host plant for monarchs—the lone plant on which the butterflies lay their eggs in spring and the only food source for monarch larvae. Come out to the Refuge to learn all about monarchs and get a little dirty helping to make a home for them!
1pm - 2:30pm Learn about Leaves - Spring is in the air! Flowers are blooming and new leaves are unfolding. Join Garima wilson to learn about leaf types, arrangement, shapes, and functions along with fun-filled activities. Make a leaf collage, or learn about leaf texture and shape by making leaf rubbings. All ages are welcome.
Questions? Julie: 408-262-5513 ext.104
Organizer of Let's Go Native…In Our Garden!
Containing almost 30,000 acres of estuarine habitat, uplands, open water, mudflats, salt ponds, and salt marshes, including much of southern San Francisco Bay, Don Edwards San Francisco Bay National Wildlife Refuge provides habitat for many wildlife.  Its purpose is to protect wildlife habitat for endangered species and migratory birds, and to offer opportunities for nature study.  The refuge has two main facilities - a Visitor Contact Station in Fremont, and an Environmental Education Center in Alviso.    The Visitor Contact Station is open Wendesday-Saturday from 11 a.m. - 4:30 p.m., and the EEC in Alviso is open Saturdays from 10 a.m. - 4:30 p.m.  Both are closed on all federal holidays.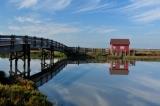 Don Edwards San Francisco Bay National Wildlife Refuge is part of the San Francisco Bay National Wildlife Refuge Complex and is administered by the US Fish & Wildlife Service.