Description
IFRS 15 isn't just some new standard for revenue recognition that only accountants and CFO's need to worry about. It can actually have a broad impact across an organization, including IT!
Effective Jan. 1, IFRS 15 can transform how companies structure agreements, set prices, bundle products and services, pay commissions, time purchases, and more. As a result, IT may need to implement application upgrades or modifications, reengineer integration points, or even create new processes to support these changes.
In this lively session, Robert Nevill, CPA, MBA, will give a high level overview of IFRS 15 and discuss examples of how it can impact your business and IT. Don't miss this opportunity to get expert advice, have some fun, and network with your peers -- RSVP today!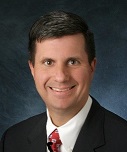 Robert Nevill CPA, MBA, joined the Orlando office of Berman, Hopkins, Wright and LaHam in November 2016, with a wide variety of accounting experience in both public and private sectors. In addition to helping clients, Robert is known for his presentations on a variety of financial topics.

Robert earned a degree in Economics from Rice University; a Master of Business Administration degree from Florida State University; and a Master of Accountancy degree from the University of Florida.
There is no cost to attend. Please note, you will need a government issued picture ID to enter the SD Data Center.
SIM is a "no sell zone": sales reps are welcome, provided they bring an IT practitioner to the event. Thank you for your understanding. Heavy appetizers and beverages provided by Artemis IT, DragonPoint Software, and Satcom Direct. We look forward to seeing you there!
Join SIM! SIM is the only national professional network that connects IT leaders with peers in their communities - providing valuable opportunities for knowledge sharing, professional development, collaboration, and career advancement. Learn more about SIM at the event!