Sales Have Ended
Ticket sales have ended
Cheers!
Sales Have Ended
Ticket sales have ended
Cheers!
Join FemTech Collective for a week-long event series where we discuss the ins and outs of fundraising and investing in female health!
About this event
FemTech innovation has already improved the health of females and families around the world in many ways. Despite its proven impact and market potential, the FemTech industry is underfunded, accounting for only a small percentage of aggregated capital that flows into healthcare.
Current State of Fundraising:
FemTech funding accounts for 1.4% aggregated capital that flows into healthcare. Global Newswire
Women spend an estimated $500 billion on medical expenses annually— while a mere 4% of healthcare R&D is targeted specifically at female health issues. Tech Crunch
An estimated 69% of FemTech startups have at least one female co-founder, in 2020, mixed-gender founding teams saw approximately 11.4 percent of VC capital invested compared to only 2.7 percent invested in solely female-lead teams. Embroker
4 percent of CEOs and 21 percent of board members at Fortune 500 health care companies are women
Women make up less than 5% of venture capitalists. Inc
A large number of healthcare venture capitalists are yet to invest in FemTech. Business Wire
Increasing investment in FemTech startups from idea stage to exit is one of the most impactful ways to help FemTech innovators overcome industry specific challenges. In this series, we will engage the global FemTech community through interactive sessions that equip FemTech founders and investors with the tools, knowledge and resources to break down traditional barriers to fundraising in FemTech.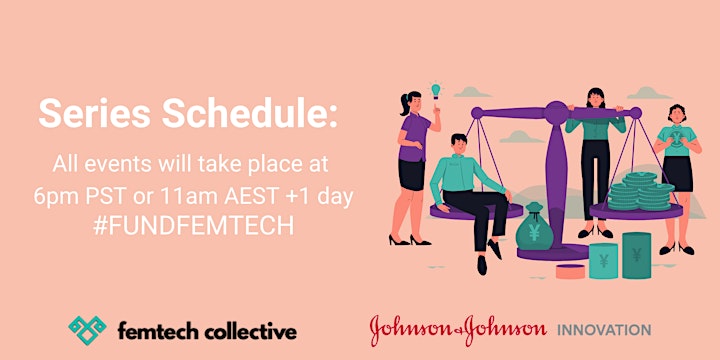 25 July - Funding Female Founders co-hosted with Johnson & Johnson Innovation: Johnson & Johnson Innovation will co-host a panel discussion in FemTech Collective's Fundraising Series with an emphasis on the journey for female founders looking for investment and the benefit of advocacy and support in breaking barriers. The session will look to showcase partners from Johnson & Johnson Innovation's network, their experiences when approaching investment and the different elements and type of support they see necessary for success. Speakers: Wei Wu, Liping Liu, Mairin Reid, Jill Tang, Elaine Gong

26 July - Law & Order: Fundraising Law & Financing Trends: Fundraising can be a stressful and complicated process to navigate, particularly for Founders who are so close to their businesses. In this session, we look a bit closer at recent financing trends, how to protect yourself and your business through your fundraising journey, and what you need to ensure your fundraising round is up to legal standards. Speakers: Courtney Bowie & Lindsey Mignano

27 July - VCs! Angels! and Crowds! Oh my!: There are many strategies to funding your company, but not all approaches are right at every stage of growth. This session brings together panelists from VC, angel investing, crowdfunding, and an accelerator program to discuss the different fundraising strategies, the pros and cons of each approach, and how to decide which pathway is best for your company. Speakers: Alexa Binns, Nicole Denholder, Ankita Vashistha, Carey Smith

28 July - Who wants a piece of me?: Mergers & Acquisitions: There are many ways to build a successful business in FemTech, but we don't often hear about the merger and acquisition process. In this fireside chat, we talk about acquisition strategy, when is the right time to be acquired, and best case practices for mergers and acquisitions. Speakers: Linda Greub, Colby Holthouse, Guillaume Herry

29 July - (Updated Time: 6:30pm PST) Spill the tea: Networking Session: Interested in an interactive session to network with investors, professionals, and founders who are enduring the fundraising process? This session will do just that! Join us to get insights, feedback, and ideas about fundraising and investment in female health innovation. Hosts: Nicole Dahlstrom & Kamilah Mathias

All events will take place at 6pm PST / 11am AEST +1 day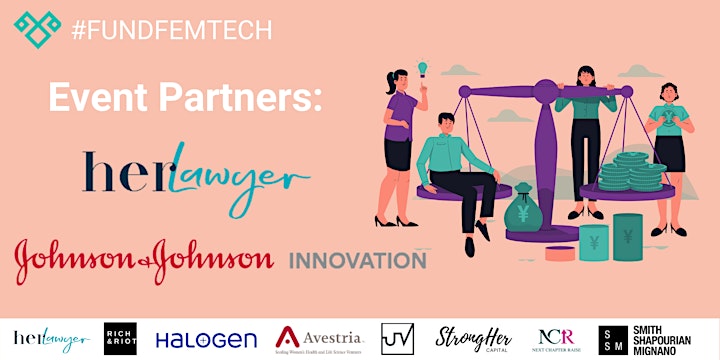 Johnson & Johnson Innovation seeks to positively impact human health through innovation. They do this by helping entrepreneurs realize their dreams of creating healthcare solutions that improve people's lives around the world. They work side-by-side with innovators throughout their journey, providing a robust exchange of ideas and resources to support their success. Their mission is to create the leading global innovation network to generate transformational healthcare solutions through value-creating partnerships.
Her Lawyer is a law firm that is doing things differently. Forget what you know about lawyers, the old way is dead. They're breaking the rules, and we're proud of it. They're on a mission to help women succeed in business. They're inspired by passionate women who are forging their own path in the world. They want to be part of your journey. Speaking to a lawyer doesn't have to be scary, impersonal and unaffordable. They write in plain english. They talk like you. They're approachable and responsive. Their clients are at the centre of everything they do.
Thank you all to HerLawyer and the rest of our participating partners.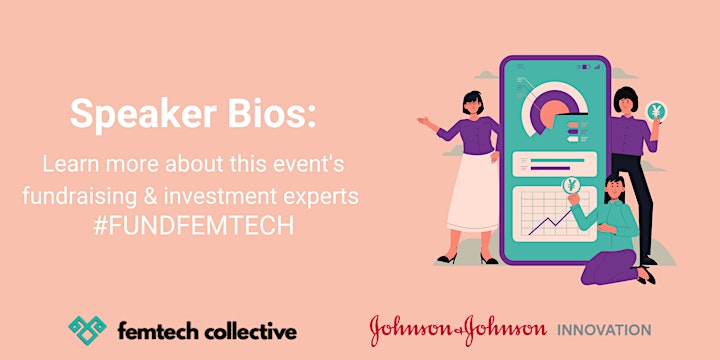 Wei initiates and manages equity investments to drive innovation and fuel new and sustainable businesses. Prior to joining JJDC, Wei was a Senior Associate at Illumina Ventures with a focus on genomics-enabled precision medicine including therapeutics, diagnostics, and life science tools. Prior to that, she was the Director of Healthcare Investment and Business Development of BOE Ventures where she focused on VC fund investment, direct investment, and business development opportunities at the intersection of technology and life sciences, including digital health and medical devices.
Since the company's inception in 2011, Dr. Liu has led all aspects of HighTide's operations, including fund raising, and directing the research and development of HighTide's drug programs for chronic liver diseases, gastrointestinal diseases, and metabolic disorders. Prior to HighTide, Dr. Liu held positions in several US biotech companies: Director of R&D, Stealth Biotherapeutics Inc., Head of Proteomics, ATCC; Senior Manager of R&D, MannKind Corp, and Director of Antigen Discovery, CTL Immuno Therapies Corp. She is a named inventor of an FDA approved diabetes drug and was involved with over ten IND submissions and 100+ international patent applications and issuance. Through her extensive drug research and development experience, Dr. Liu formed insights and perspectives on the complex etiology and pathogenesis of chronic liver, gastrointestinal and metabolic diseases, which lead to her inspiration for founding HighTide.
Mairin is an experienced Digital Health Leader. She is driven by purpose-led health technology thatdrives better patient outcomes and accelerates clinical research. Her roles have ranged from co-founding a digital start-up to managing global strategic developments. With over 15 years consulting experience in leadership roles in strategic design, business case creation and execution, operational model development, customer journey definition and experience, value-based business models in Life Science and Healthcare companies. She has worked with a range of healthcare and life science clients including large global MNCs, state & federal government and non-government organisations in Australia, Singapore, Europe, South East Asia, Africa, South America and North America.
Jill Tang is a serial entrepreneur, community builder and Women in STEM advocate. She is the co-founder of Ladies Who Tech, a social enterprise focusing on changing the status quo and promotes gender diversity and inclusion in STEM industry through offering digital upskilling education, career opportunities and community network. It connects more than 30,000+ members across all social media in greater China and now has presence in 11 cities including Singapore and Kuala Lumpur. Forbes China, the Guardian, BBC, TechNode, Paper, CGTN and CNN also reported her work. Jill is the finalist for 2016 Australia China Young Alumni of the year and top 100 Gen T in China by Asia Tatler in 2019. In 2020, Jill was awarded 'Social Impact Award' at AmCham Future Leaders of the Year Award. She holds Bachelor of Commerce from Latrobe University, Master of Applied Finance from Monash University and MBA from Melbourne Business School.
Elaine Gong, founder & CEO of an indepent beauty brand called SIMPLY THIS, is serial entrepreneur with a strong technical background. She holds Mphil degree in Chemical Engineering from University of Cambridge, and was then offered the specialist position at Unilever global R&D center. Through her work on innovation-led projects across brands, she gained experience in discovering consumer insights, grafting product concepts/claims, conducting consumer studies and planning clinical tests etc. Elaine left Unilever in 2015 and started her journey in creating and building new brands. Prior to founding her own brand SIMPLY THIS, Elaine was co-founder of two other personalization brands, among which UNISKIN (a skin genomics data based personalization brand) has become a up-rising star acknowledged by the industry and investors. With a firm pursuit of value, she founded SIMPLY THIS aiming to bring new ecological perspectives to skincare approach and empower consumers to embrace the world of chaos with inner peace and rationality.
Courtney is a commercial lawyer turned innovative entrepreneur and passionate advocate for gender equality.
Leading the team at Her Lawyer, Courtney works to support ambitious women in business through easily accessible, high quality legal services.
In 2020, Courtney won the prestigious Telstra Business Women's Award - Emerging Leader and was named Wellness Advocate in the Lawyers Weekly 30Under20 Awards for her work as the founder of Ladies Who Lawyer, an online support community for women in law.
Courtney is passionate about taking practical steps towards gender equality, raising awareness of mental health challenges and working towards a sustainable future for our children. She pursues her passions through her work with Her Lawyer and Ladies Who Lawyer, and also as an advisory board member for FemTech Collective and the University of Wollongong School of Law.
Lindsey counsels national and international startups regarding business formation and expansion into US markets, financing, and general contract matters.
Before founding her four-woman, women- and minority-owned law firm in 2016, Lindsey practiced at an international law firm. She graduated from Iolani School (H.S.D. 2003), Stanford University (B.A. 2007) and the University of California, Hastings College of the Law (J.D. 2010).
She is the President-Elect of the Barristers Board of Directors for the Bar Association of San Francisco, a preeminent Bay Area bar association. She has received the following professional accolades: Outstanding Barristers Award in 2017 from the Bar Association of San Francisco; Women in the Law Committee's Outstanding New Leader Award in 2015 from DRI, an international legal organization for defense and corporate counsel; and Rising Star each year from 2016 through present, by Super Lawyers, an honor awarded to only 2.5% of attorneys under the age of 40.
Alexa is an investor with a talent for spotting the latest consumer trends and technology. She is on Jesse Draper's team at Halogen Ventures where they invest in consumer technology startups with female founders.
Alexa's specialty is deploying the latest marketing techniques: she wrote her master's thesis on how to build a brand on YouTube, was nominated for a Mashable Award for social media marketing with Foursquare, and helped sell the Twitch influencer marketing platform NoScope.
Alexa graduated Phi Beta Kappa from Stanford with a degree in public health and has her MBA from UCLA Anderson. She's an angel investor in Chubbies, Flex, Mented, Chipper Cash, among others.
Nicole is the founder of the Next Chapter Raise and Crowdfunding and platforms. Next Chapter Raise is a digital membership community for female entrepreneurs and women-owned businesses in Asia to help them get funded faster. Next Chapter Crowdfunding is a reward-based crowdfunding platform. Through these platforms, Nicole has worked extensively with female founders and investor changemakers to understand the issues facing female entrepreneurs entrepreneurs who are looking to fund and scale their businesses.
Nicole was previously a Director at PricewaterhouseCoopers (PwC) in London and Hong Kong in PwC's US IPO and Advisory practices working on large-scale projects across Europe and Asia. Nicole is on the Board of the Women Entrepreneurs Network in Hong Kong and was previously a member of the Australian Chamber of Commerce Women in Business Network's Executive Committee.
Since starting Next Chapter, Nicole is a regular speaker on Crowdfunding and Funding for Female Entrepreneurs at events such as FinnovAsia, HKU's Future City Summit, StartupNext, HKTDC Conferences, American Chamber of Commerce and the Australian Chamber of Commerce. Nicole is passionate about female entrepreneurship and becoming a catalyst to change how women access funding.
Founder and CEO of one of the first venture capital funds to invest in women in technology and innovation - SahaFund and StrongHer Capital. Ankita Vashistha has over fourteen years of experience in Tech Ventures, Innovation, Private Equity, and Venture Capital across UK, US and Asia. Ankita works very actively in the start-up ecosystem focusing on early stage technology companies, helping them to innovate and scale. Ankita's portfolio companies span across healthcare, fintech, consumer and future of work. She has invested in Licious, InstaHealth, Uniphore, LoveLocal, Fitternity, JoulestoWatts, Leap.Club, OwnTrail to name a few. Recognised by Prime Minister's office in 2016 under the Startup India launch, Ankita has been fortunate to have over whelming support and mentorship from the top industry leaders. Ankita has evaluated and mentored over 1000 startups globally and invested in over 50 companies. Currently focused on early stage startups across Femtech, Fintech and Future of Work at StrongHer Capital.
Ankita is extremely passionate about promoting gender equality and advancing women's power and influence at the workplace and society. She is an active advisor and mentor and is part of global angel networks, incubators and accelerators. Ankita has also launched a foundation – MyStepUp, to support innovation and entrepreneurship in diversity programs – SheStrongHer. She also sits on the investment board of her global family office, Tholons Capital. Ankita co-founded Wavemaker Labs, one of Singapore's most successful accelerator programs and worked at Aureos Capital, London, as part of the global investor relations and portfolio management ($2B FUM) team based in London.
Ankita has experience working with a diverse investor set across Institutional investors, Development Finance Institutions, Banks, Fund of Funds, Family Offices and HNI's. Ankita is an electronics and communication engineer, Masters in Finance and Management from Cranfield school of Management, UK and Executive Leadership from Stanford University, USA. Ankita has been awarded, Leading Women Fund Manager and Top 100 Asian globally. Co-Authored the book, "Innovation-at-Scale".
A career entrepreneur, Carey Smith founded Big Ass Fans in 1999 and served as its CEO, or Chief Big Ass as he preferred, for 18 years. While other companies made and lost their fortunes, Carey's contrarian business practices and relentless pursuit of new markets and high-quality products led to sustained, rapid growth. By 2017, Carey had grown the fan and light manufacturer to nearly $300 million in annual revenue and more than a thousand employees. And he'd done it without any outside investors. Ready for a new challenge, he sold Big Ass Fans for $500 million. The company's stock appreciation rights program paid out $50 million to more than 100 loyal employees who shared Carey's work ethic with 15 becoming overnight millionaires. Following the sale, Carey founded Unorthodox Ventures, his Austin-based investment company that seeks to provide everything venture capitalists lacked when they approached him near daily at Big Ass Fans. Carey's team consists of experts who help founders become serial entrepreneurs by providing support for everything from engineering and marketing to customer service and logistics. Learn more at unorthodoxventures.com.
Over 30+ years, Linda has invested in public and private life science companies as an institutional investor, a corporate M&A executive, a hedge fund analyst, and a private venture investor; she's held roles at companies including Essex Investment Management, Banc of America Securities, Novartis Diagnostics, Applied Biosystems (sold to Life Technologies Corp.) as well as at venture-backed life science companies such as VitaPath Genetics, Singulex, Raindance Technologies (sold to Bio-Rad), and Linkage Biosciences (sold to Thermo Fisher). Her areas of expertise includes finance, operations, and mergers and acquisitions and, within the life sciences specifically, diagnostics, genomics, healthcare services, and life science tools. In 2019, she co-founded Avestria Ventures, which invests in early-stage women's health and female-led life science ventures.
Colby Holtshouse is the Chief Operating Officer at Alydia Health, a company on a mission to make childbirth safer by addressing the maternal morbidity and mortality associated with postpartum hemorrhage. Alydia recently entered into an agreement with Merck to be acquired by their intended spin off, Organon, at the end of Q2 2021. Colby previously served as Alydia's Vice President of Marketing, joining the company as the first commercial hire. Prior to Alydia, Colby was the Vice President of Marketing and Business Development at Pelvalon, a women's health startup dedicated to treating women suffering from loss of bowel control. Between fulltime roles, she has provided strategic commercialization advisory services to venture-backed companies including Cala Health, Silk Road Medical, Outset Medical, Murj, and Madorra. Colby previously held roles in marketing, sales and finance at AccessClosure, Medtronic, and Guidant, and she began her career in investment banking at Deutsche Bank. Colby has a B.A. in History from Stanford University and an M.B.A. from the Kellogg School of Management at Northwestern University.
Guillaume Herry has international operational and strategic consulting experience in Women's Health across Pharma and the MedTech industries. As part of his various roles at Exeltis, a global Women's Health company, Guillaume played a key role in the successful acquisition and pipeline development of Everett Laboratories, now trading as Exeltis USA. He also played crucial roles in the acquisition and operational management of Veldana Medical SA, a Switzerland-based company manufacturing and selling an interventional device for the treatment of dysfunctional uterine bleeding. He actively contributed to the in-licensing of pipeline products for the set-up of Exeltis Germany GmbH as a NewCo. Guillaume is the Director, Commercialisation Strategy at Biointelect, a consulting firm headquartered in Sydney and operating across the entire product development pathway offering expertise and services including commercialisation of early-stage technologies, strategic R&D project management, health policy and industry engagement. In his current role, Guillaume has provided strategic advice to numerous client portfolios in Women's health. Guillaume holds an MBA from the Australian Graduate School of Management at University of New South Wales Business School, a Master's Degree in Engineering for Health and Drugs majoring in Biotechnology, Health and Management from the University Joseph Fourier in Grenoble in France and a Master's Degree in Entrepreneurship in Life Sciences & Technologies from the University Paris-Sud X, France.
Kamilah is the founder of Rich&Riot, a women's empowerment apparel brand turned newsletter for entrepreneurs, innovators, changemakers, rule-breakers, idea generators & content creators. Kamilah connects her community to impactful resources and opportunities twice a week via her newsletter. She is also the co-host of The Valley Outsiders Podcast where she shares stories from entrepreneurs from all backgrounds and stages of their journey.
Megan Capriccio is the CEO & Co-Founder for the FemTech Collective. As an entrepreneur, product manager, and business strategist, Megan has dedicated her career to ensuring that women have more control over their realities: Health, education, and career. From researching the role of women on the international stage at the University of Sydney, to establishing companies that empower and celebrate women, Megan's various roles have gained her recognition as a champion for positive change for women. As Co-Founder of FemTech Collective, Megan is currently working with and consulting for global and local FemTech companies, investors, and partners. She also offers additional support for women to manage their health with the help of technology, and is re-educating the public on how healthy women create a healthy society. Most recently, Megan was selected as one of Industry Wired's Top 10 Influential Women Leaders to Follow in 2021.
Nicole Dahlstrom is the COO & Co-Founder of FemTech Collective. Back in 2016 when Nicole decided to start an online store selling probiotics for female health, she quickly realised that the internet had not levelled the playing field for female health focused startups like it had for other categories of products and services. In fact, there were so many hurdles to overcome online and in several other arenas that Nicole decided to create an opportunity for other FemTech founders and supporters to connect and join forces in solving this problem. Nicole's mission is to transform the collective frustration felt by innovators creating better products and services for female health into a global movement for collaboration between the entire FemTech ecosystem. Through over six years of experience providing marketing and project management services to non profits, Nicole has developed the ability to think creatively about raising capital and strategically using all the resources available to achieve her mission.
INTERESTED IN FEMTECH?!
FemTech Collective is the world's largest network for entrepreneurs, innovators, and professionals in female health technology. Our mission is to catalyze quality innovation by providing strategic opportunities for the FemTech ecosystem and amplifying the acceleration of products and services for female health.
JOIN US: Are you an innovator, industry professional, investor, activist or simply interested in female health innovation? Then the FemTech Professional membership is right for you! A FemTech Professional plan gives you the opportunity to contribute to the acceleration of female health innovation and technology on a global scale. Connect, learn, and be inspired through our strategic programs, participate in educational events, and connect with successful FemTech professionals from around the world.
PARTNER WITH US: Are you an organisation interested in supporting the development of female health technology? The FemTech Champion plan will allow your company to access FemTech startups and ensure your organisation is recognised for its significant contribution to the FemTech industry. As a FemTech Champion, you will share insights with an active network committed to transforming female health through innovative products and services, all the while providing professional and personal development opportunities along the way.
We'd love to hear from you! We're hear to help with any questions about our event series, memberships, partnerships and anything FemTech!
Date and time
Location
Refund policy
Organizer of Let's fund femtech: Breaking barriers to innovation for female health
FemTech Collective is the world's largest network for entrepreneurs, innovators, and professionals in women's health technology. Our mission is to catalyze quality innovation by providing strategic opportunities for the FemTech ecosystem and amplifying the acceleration of products and services for women's health.