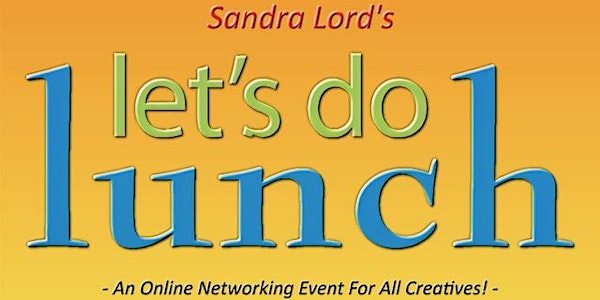 "LET'S DO LUNCH" - A FUN ENTERTAINMENT INDUSTRY NETWORKING EVENT VIA ZOOM!
FREE to attend!! HOLLYWOOD IS ALL ABOUT "RELATIONSHIPS, RELATIONSHIPS, RELATIONSHIPS! JOIN US @ our FUN, popular networking lunch!
About this event
SANDRA LORD
THE LOS ANGELES FILM & TV MEETUP &
WOMEN HELPING WOMEN IN ENTERTAINMENT
Invite you and a guest to our MONTHLY
"LET'S DO LUNCH®"
~ OUR POPULAR ENTERTAINMENT INDUSTRY NETWORKING EVENT, ONLINE VIA ZOOM ~
NOW YOU CAN ATTEND FROM ANYWHERE!
CO-HOSTS:
ANNA IVERSON & VICKI LISTON
LOTS OF FUN! LAUGHTER & CONNECTIONS!
GET TO KNOW YOUR FELLOW ATTENDEES IN AN INTIMATE, "NO PRESSURE" FUN setting.
WHO SHOULD ATTEND
OPEN TO A DIVERSE GROUP
CONTENT CREATORS - WRITERS, PRODUCERS, DIRECTORS - FINANCIERS, COMPOSERS, TALENT REPS, CASTING, CREW, ETC. WE WELCOME ATTENDEES IN FILM, TV, MUSIC, FASHION, PUBLISHING, NEW MEDIA, etc. -- IN FRONT OF AND BEHIND THE CAMERA. This event is SPECIFICALLY designed to include a DIVERSE group of men & women in various fields and at ALL LEVELS.
A ZOOM ACCOUNT WILL BE REQUIRED TO PARTICIPATE.
DON'T HAVE A ZOOM account? Sign up for a FREE one here: https://zoom.us/signup
ZOOM ACCESS DETAILS WILL BE PROVIDED TO THOSE CONFIRMED A FEW DAYS BEFORE THE EVENT.
ABOUT "LET'S DO LUNCH"
Hollywood is ALL ABOUT "relationships, relationships, RELATIONSHIPS!! " At this popular monthly networking series, connect in a PRIVATE, INTIMATE, "NO PRESSURE" mingling and sharing atmosphere. Take advantage of this great opportunity to expand your network, pitch yourself, seek assistance, explore collaborative opportunities and share resources in a FUN BUSINESS setting!! Attendees have gotten representation, funding, employment, collaborators and meetings, among other diverse opportunities.
😀 SEE YOU THERE!! 😀
BRING A FUN, GREAT ATTITUDE!