Description
Let's Clown Around: Back-to-School Literacy Carnival
Friday, August 3 at 6:00PM
Do you like clowns?
Do you like reading?
Do you like making new friends?
Let's CLOWN around at the Back-to-School Literacy Carnival
Friday, August 3rd at 6:00PM.
There is fun in reading, and MTC is encouraging children's families to read together at home and in public spaces!
Come dressed as a clown and receive a special PRIZE!!!
Clowns will be leading reading circles!
Interactive activities like Word Bingo, Juggle Your Reading Schedule, Knowing the Magic Words.
Face painting! Balloon animals! Carnival games with a literacy twist!
Free books will be available for all families that register.
Register
at memorialtab58.eventbrite.com
! On-site registration is also available. Books are focused on children ages 0-8 (though older students are also included). All are invited to participated. The carnival will be held in the fellowship hall and will conclude at
8:00PM.
Don't forget to wear your best clown costume!
FREE Books for the first 200 youth who pre-register! Fun! Costumes! Corner of 58th Street and Telegraph Avenue!
Hosted by Memorial Tabernacle in Partnership with the Oakland Literacy Coalition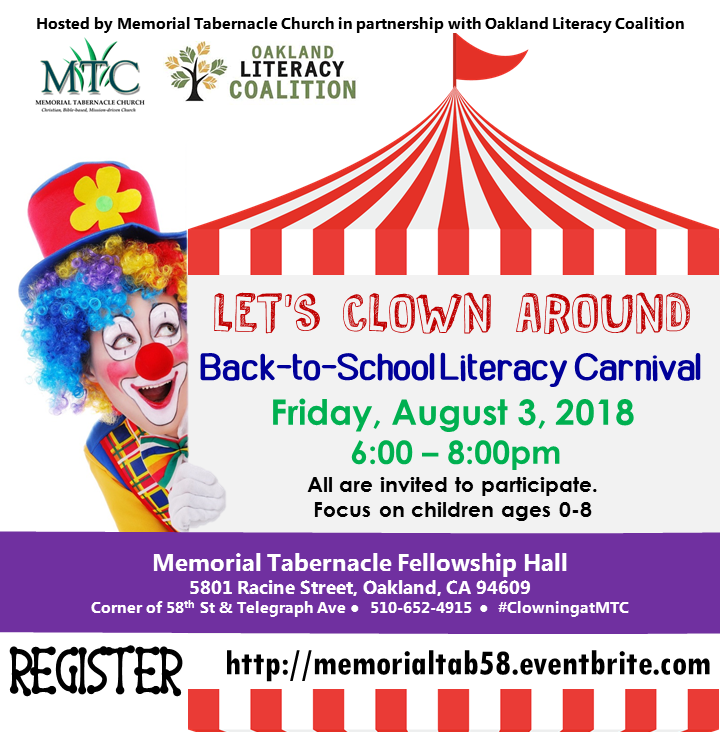 About Memorial Tabernacle Church
Since Fall 2014, Memorial Tabernacle Church has leveraged an idea birthed from the young people to create community, build community, connect with community, and educate community. Each first

Friday

of the month, the community outreach and young people ministries come together to celebrate and do just that. With monthly themes, family friendly activities, and an ongoing promotion on the importance of community, neighbors are educated and united. All are invited!