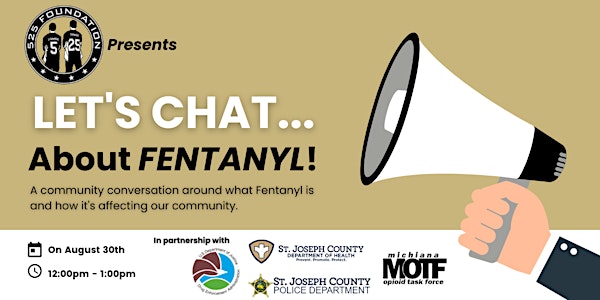 Let's Chat... About Fentanyl
Join 525 Foundation for a new community education series called "Let's Chat". This month Let's Chat... about Fentanyl.
When and where
Location
St. Joe County Public Library-Ballroom A 304 South Main Street South Bend, IN 46601
About this event
This month Let's Chat... about FENTANYL. What is it and how is it affecting our community?
What is Fentanyl? Is our community at risk? With overdose and deaths on the rise in St. Joseph County, the time to act is now. Deaths from fake pills with fentanyl are surging across the country and right here in our own community. Teens and Adults are purchasing what they think are OxyContin, Percocet or Xanax pills via social media and the streets, but drug dealers are making these fake pills with the cheaper, stronger and more deadly synthetic drug called fentanyl to increase their profits. Fentanyl is up to 50 times more potent than heroin and 100 times more potent than morphine. Fentanyl is odorless, tasteless and colorless. Teens never know what they're getting. One pill can kill them. One pill.
Come join the discussion! The time is now to educate yourself around the dangers of Fentanyl.
Leading the discussion, we will be joined by Alfred "Chip" Cooke the Assistant Special Agent in Charge of the DEA Merrillville, Indiana District Office in the Chicago Field Division. He oversees DEA operations across Northern Indiana. Mr. Cooke arrived at DEA Merrillville in 2021 having previously served at DEA Headquarters in Arlington, Virginia.
Mr. Cooke began his federal career in 1996 in San Diego, California as a United States Border Patrol Agent. In 2000, Mr. Cooke was hired by DEA as a Special Agent and assigned to the DEA Baltimore, Maryland District Office. In 2011, Mr. Cooke was promoted to Supervisory Special Agent in Baltimore. In that role, he led an enforcement group focused on the diversion of controlled substance pharmaceuticals and listed chemicals. In 2017, Mr. Cooke transferred to the Special Operations Division of DEA Headquarters. In 2018, Mr. Cooke was promoted to Chief of DEA's International Affairs Section in the Office of Foreign Operations at DEA Headquarters. In 2020, Mr. Cooke became Chief of the Organized Crime Drug Enforcement Task Force (OCDETF) Section in the Office of Operations Management at DEA Headquarters. OCDETF is a component of the United States Department of Justice. It serves to effect the Attorney General's strategy to reduce the availability of illicit narcotics in the United States.
Mr. Cooke graduated from the University of Scranton with a Bachelor of Science degree. He earned a Master of Science degree in Administration of Justice and Homeland Security from Salve Regina University. Mr. Cooke holds a Graduate Certificate in Law Enforcement Leadership and Management from Marquette University and a Professional Certificate in Strategic Management from Georgetown University.
Let's Chat Facts.. and snack! Light lunch will be provided.
Registration is required. Must show proof of registration to enter event.