Nutritious, Mobile Food Pantry serving various L.A. County locations 3 times a week
About this event
OUR NEW WEDNESDAY POP UP LOCATION IN LEIMERT STARTS ON 12/01/21!
Please note that this Wednesday will be our last week with our partner, Sole Folks located at 4317 Degnan Blvd. It's been a productive year but it's time to move to a larger space to effectively serve more people driving & walking up.
Our new location is at Kaos Network (4343 Leimert Blvd. L.A. 90008) right around the corner at 43rd Place and Leimert Blvd next to the Vision Theater and People Street. We will be offering fitness classes and health education in the near future!
As always, everyone is welcome to Let's Be Whole's weekly, free, healthy Pop Up Food Pantry throughout L.A. County! No income requirements or mandatory sign-ups are needed.
Groceries are pre-bagged. Primarily food items from Whole Foods, Trader Joe's, and other food resources. Walk or drive up service. Must wear a mask and practice 6 ft. social distancing.
On the 1st & 3rd Thursdays of the month, join us at George Washington Carver Park, located at 1400 E. 118th St., L.A. 90059. Same social distancing rules apply.
Close to the Harbor area on Fridays? Catch us at our partner organization, the YWCA Harbor Area located at 437 W. 9th St., San Pedro, CA 90731.
Let's eat healthy together! For more information, contact Nina Womack at (877) 59401292 ext. 1 or email info@letsbewhole.com.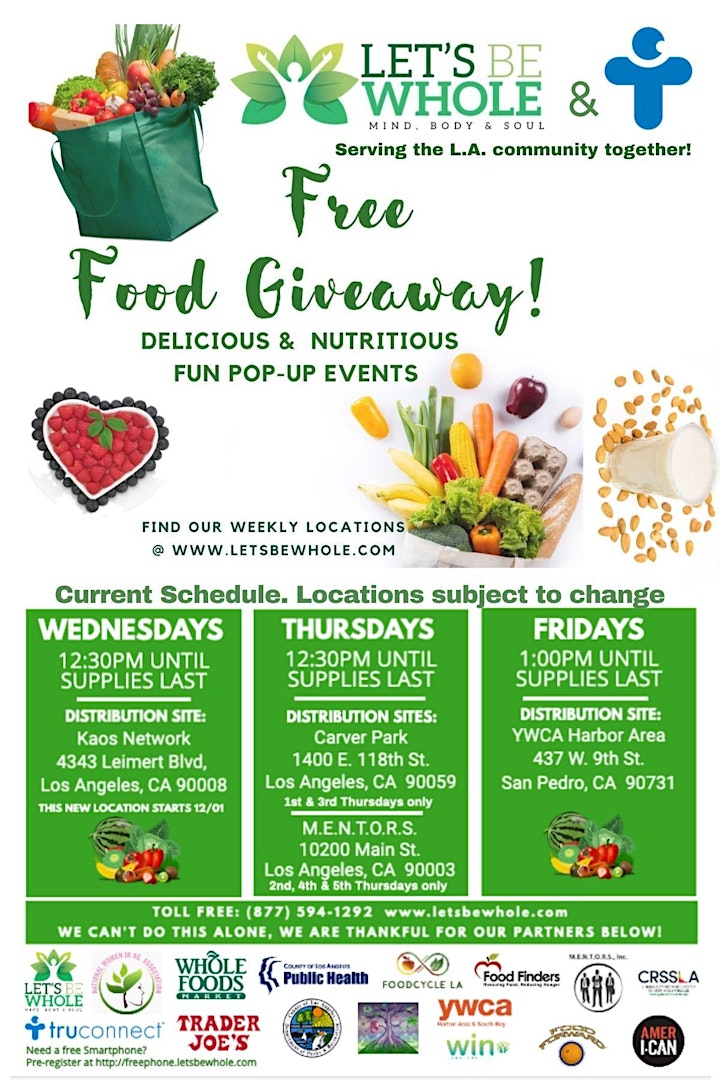 Organizer of Let's Be Whole Healthy Pop Up Food Pantry/Leimert Park
Transmedia 360 is a multi-media educational entertainment and branding company founded by actress-filmmaker-event planner, Nina Womack in 2010. The organization's chief aim is to promote educational, inspiring media content and provide our clients with high quality, low-cost media & event production services as well as marketing and branding.