Let's Be BFF's Masterclass is a live 3-hour online event that will help participants become financially fit for fibroids!
About this event
LaToya Dwight, BBA, MSM, RHU, CHCC, REBC, the Founder of The Fibroid Pandemic, has been in the health insurance industry for over 21 years. Throughout her career as an Employee Benefit Consultant, she has led the negotiations of B2B insurance contracts on behalf of various employer clients ranging in size from 10 employees to 8,000. Furthermore, LaToya has educated thousands of employees, and guided hundreds of friends and family members with navigating through the ins-and-outs of health insurance. Now she's bringing her expertise to you in the Let's Be BFF's Masterclass!
Participants will walk away with:
Understanding key health insurance jargon.
The right questions to ask to get your medical and pharmacy claims paid.
An action plan to prepare for fibroid treatment, whether it's a minimally invasive procedure or major surgery.
Knowing why a PPO plan may not be the plan that's most suitable for your medical and/or financial needs.
The information needed to cover certain holistic medicine.
Tips to know which medical plans to select in order to lower your taxable income.
An understanding of how to read an Explanation of Benefits (EOB) to determine how much money you are truly responsible for paying.
And much more...
Not only is the Let's Be BFF's Masterclass targeted to those along their fibroid healing journey, but it's also beneficial to anyone wanting to fully understand their medical benefits and learn how to maximize their coverage.
By registering and/or participating in the Let's Be BFF's Masterclass, you acknowledge and agree to the following:
• The Let's Be BFF's Masterclass does not guarantee insurance coverage.
• The Let's Be BFF's Masterclass is not a replacement of any medical advice or medical insurance.
• The Let's Be BFF's Masterclass does not offer any refunds.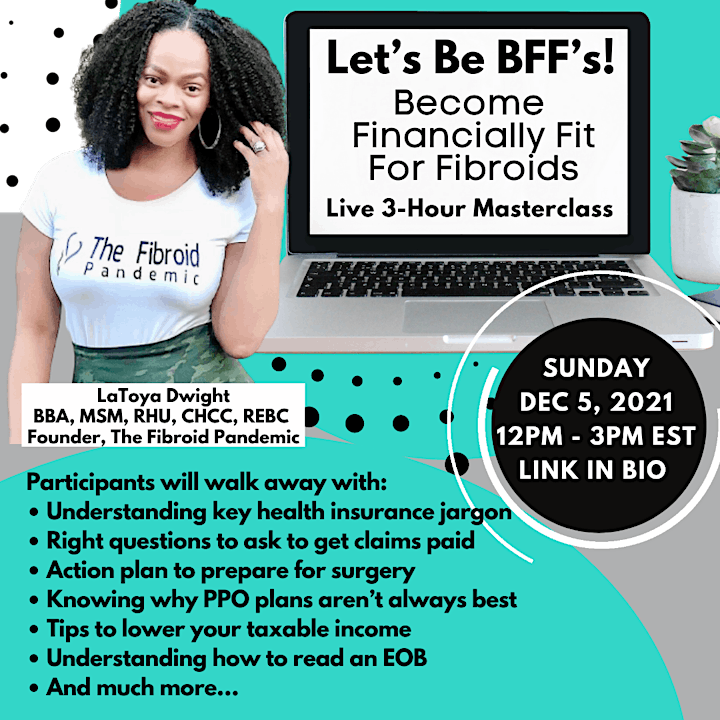 Date and time
Location
Refund policy
Organizer of Let's Be BFF's! Become Financially Fit For Fibroids