Description
Let's Battle Tour: USS Lexington Rescheduled for November 4th - Details can be found below event description.
Last year's Let's Battle Tour, a nation-wide tour focused on giving back to you – our passionate community of Wargamers, was a massive success and we are excited to announce that tickets for our third stop at the USS Lexington are NOW AVAILABLE.
To make this year's tour even bigger and better than before, 100% of the Let's Battle Tour ticket proceeds will be donated to our Project V.A.L.O.R. (Veterans & Loved Ones Responsibility) charity program and divided up between all four charities. For more information on Project V.A.L.O.R., please click HERE.
What can you expect at the USS Lexington:
A World War II-vintage Essex Class aircraft carrier commissioned in 1943 that served the United States longer and set more records than any other Essex Class carrier in the history of naval aviation

Numerous Military Aircraft

Pearl Harbor Exhibit

Flight Simulators
Your ticket includes:
Entry to the Let's Battle Tour event with food and drinks
Let's Battle Tour goody bag: Military messenger bag, t-shirt, and identification badge all PERSONALIZED & STYLIZED with your game of choice and in-game name (Physical attendance is required to claim - Customized swag is only available for orders placed before 10/22)
Access to PC gaming stations powered by Alienware to test your skills in World of Tanks, World of Warplanes, and World of Warships, Xbox One & PS4 game stations for World of Tanks on Console fans, and mobile tablets for World of Tanks Blitz players
Community contests and the chance to earn actual in-game achievements (pins)
Challenge coins and in-game bonus codes
Prizes! Prizes! Prizes!
And more…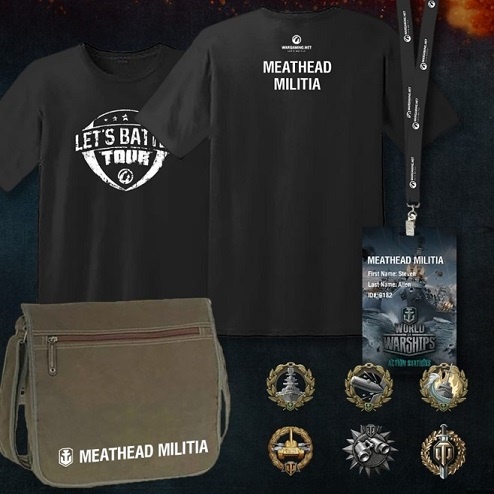 For more information about the USS Lexington, please visit: https://www.usslexington.com/
FAQs
Are there ID or minimum age requirements to enter the event?
Every event is open to players of all ages (that includes kids and families). 21+ is required for alcoholic beverages.
What's the refund policy?
Tickets are non refundable, however 100% of proceeds will still go towards Project V.A.L.O.R. charities.
---
UPDATE REGARDING EVENT RESCHEDULING:
Dear Wargamers,
After careful deliberation we have rescheduled the Let's Battle Tour for November 4th, 2017 aboard the USS Lexington. All tickets that have previously been purchased should now reflect the new date and we have included instructions on how to modify your order if needed below.
We made the decision to postpone this month's Let's Battle Tour event, which was originally due to be held on Saturday, September 30th, because so many families were impacted by the damaging floods from Hurricane Harvey, and the safety of our players became our number one priority. To support the relief efforts after the damage left by Hurricane Harvey, we are working with Team Rubicon and the veteran volunteers who are responding to families and individuals in immediate need of assistance to help in funding their disaster response operations. See how you can help below:
From all of us here at Wargaming, we would like to thank you again for your understanding and apologize for any inconvenience this might have caused, especially to those of you who had already made travel and accommodation plans. Unfortunately, these were circumstances which were beyond our control but we intend to make November 4th bigger and better than before.
We hope to see you there!
- Wargaming
---