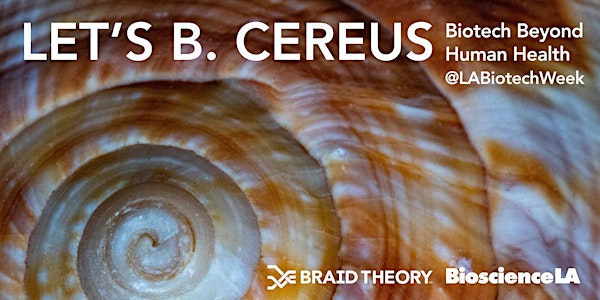 Let's B. Cereus: Biotech Beyond Human Health
Join Braid Theory to explore the depth of the world's largest biomanufacturer, the ocean, as a part of LABioTechWeek
When and where
Location
BioscienceLA 4130 Overland Avenue Culver City, CA 90230
About this event
9:00 - 9:30 am - Networking
9:30 - 10:30 am - Panel 1: got culture? | Biomanufacturing and building with biology
What will it take to grow capacity in LA to build with biology, including what we make, and develop the workforce ?
10:45 - 11:45 am - Panel 2: CELL SEA US | Synthetic biology, climate, and our oceans
What are the metrics driving synthetic biology? How can LA support a hub for a climate change revolution around our ocean environment?
12:00 - 1:00 pm - Panel 3: DOMO ARIGATO, MR. ROBOTO | Bioinformatics and automation
What are the tools to improve throughput in synthetic biology?