Description
A WOMEN'S GRAPPLING CAMP WITH LETICIA RIBEIRO III
Presented by Sweaty Betties
Pre-order your limited edition Leticia Ribeiro TRAIN WITH THE CHAMPIONS T-shirt! Comfortable tri-blend t-shirt in purple with commemorative graphic of San Francisco Golden Gate Bridge. Available in women's sizes Small, Medium and Large.
Pre-ordered t-shirts will be available for pick up at the training camp upon checking in. Limited quantities available.
Please note that at this time we are only making the t-shirts available for pick up and Leticia Ribeiro Grappling Camp attendees.
For more info visit: http://LeticiaRibeiroSF2012.eventbrite.com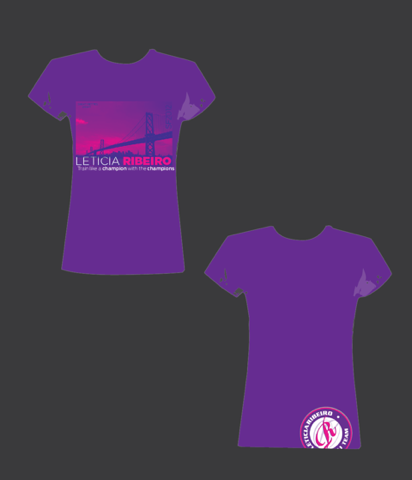 Organizer of Leticia Ribeiro Limited Edition T-shirt
Founded in 2008 by women for women, SWEATY BETTIES is a San Francisco Bay Area, California grappling group dedicated to growing the women's Brazilian jiu jitsu and grappling community through classes, seminars and training camps in supportive and positive training environment. 
Sweaty Betties members meet for training sessions once a week that include both technical drills and live sparring. Whether you're a beginning jiu-jitsu student or an experienced competitor, Sweaty Betties will provide you with a great place to build, hone, and test your skills. We welcome students from all schools of all levels and ages. 
Contact us to find out more about our open mats and training camps. We'd love to hear from you. 
Email Address:
FOLLOW US!