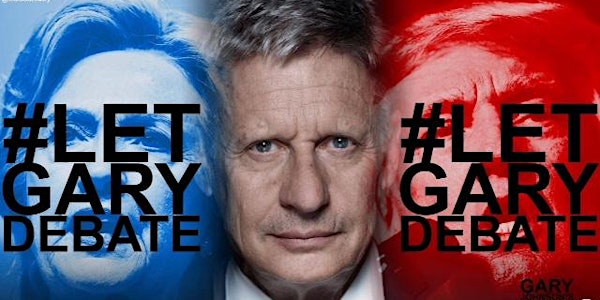 #LetGaryDebate 1000 Man Assembly
When and where
Location
Commission on Presidential Debates 1200 New Hampshire Ave, NW Washington, DC 20036
Description
The Commission on Presidential Debates (CPD) at 1200 New Hampshire Ave, NW have ignored us. They said they will not change their 15% criteria to allow Governor Gary Johnson into the debates. They CAN change it, they made that arbitrary number up, but they won't. The polls used flawed logic and didn't represent our true numbers.
Gary has made it on all ballots including D.C., that was a feat in itself. It's time to make some noise, WE ARE BEING PLAYED!
The CPD will not allow Gary to debate, they are stiffling my voice, your voices. The First Amendment grants "the right of the people peaceably to assemble". It's time for us to exercise that right and tell the CPD to #LetGaryDebate.
Wear your Gary T-shirts, bring any signs you have, make signs that simply say #LetGaryDebate and we will chant "Let Gary Debate" over and over again until they hear us.
Come, BE PART OF HISTORY and let your voice be heard. Nationwide Media Coverage!
Sign the Petition: https://www.johnsonweld.com/debate