Let Your Light Shine: Spokane Single Adult Conference & Cruise

Friday, September 13, 2019 at 6:00 PM

-

Sunday, September 15, 2019 at 12:00 PM (PDT)
Event Details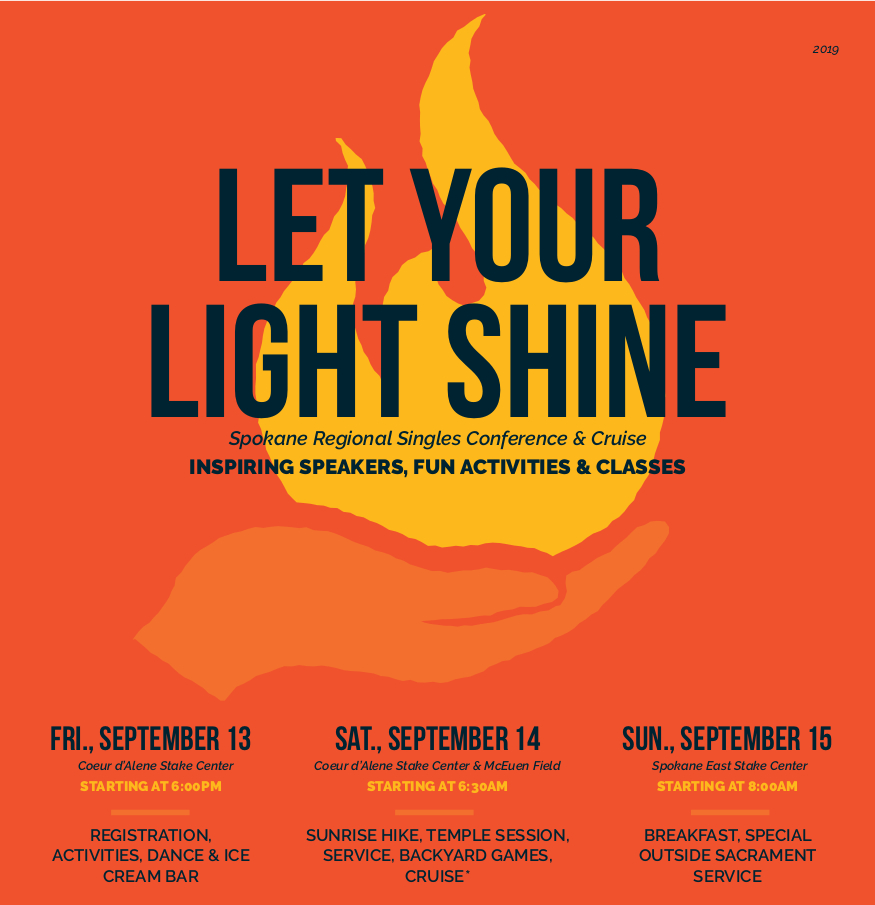 Let Your Light Shine!
Come one, come all (singles that is) to the annual Spokane Regional Singles Conference!
*Online registration ends on 9/12 at 9pm. After that, you must register at the conference.
After several years, the Coeur d'Alene Cruise is back again! It will be a sunset social cruise with Live DJ and dancing.
This conference will start Friday evening with registration, ice cream bar and activities starting at 6pm and a Dance to follow at 9pm. On Saturday, we will have games and activities - breakfast, lunch and dinner - all hosted in and around Coeur d'Alene. We have bonfires, activities, service projects, dances, ice cream bars, temple sessions, service projects -- basically anything you want! The conference will conclude Sunday after a special outside Sacrament service near the Temple.
CRUISE - The ship's capacity is 149 passengers. $10 per passenger. It will fill up so please register in advance!
CHILD CARE - We will not be providing childcare at the conference.
HOUSING - Deadline for housing was Sept 5th. Any requests after Sept 5th will need to find their own housing for the conference.

Any questions? - brad@activetravelmarketing.com
(This is a free conference generously funded by the regional Stakes and donations from members.)
Schedule
Friday
6:00 - 7:00: Registration/Check-in at Coeur d'Alene Stake Center
7:00 - 9:00: Snacks and activities
9:00 - 11:00: Dance & Icecream Bar
Saturday
6:30 - 9:30: Sunrise Activities (Tubbs Hill Hike, Blanket Tying Service Project, Book Club, Temple Session)
1- Sunrise Hike @ Tubbs Hill in Coeur d'Alene – Meet at the Coeur d'Alene Stake Center at 5AM, pick up some trail food and carpool to the trailhead. (Sunrise is at 6:26). There is a 2.2 mile loop fairly easy trail around the base of the hill, and an intermediate level climb to the top (364' elevation gain) for those who like to work a little harder in the morning.

2 - Temple Sessions @ Spokane Temple 13710 E 40th Ave, Spokane Valley, WA 99206. 6:00 or 7:30 AM endowment sessions, multiple initiatory or sealing sessions. Call the Spokane Temple at (509) 926-2824 to make your own reservations.

3 - Study Group @ Coeur d'Alene Stake Center - 7:30 to 8:20. We'll discuss the Come Follow Me Assignment for the week of September 9-15 (2 Corinthians 1-7). Come having read the assignment and scriptures for the week and be ready to participate in the discussion.

4 - Book Group @ Couer d'Alene Stake Center – 8:30 – 9:30AM. Come having read The Great Divorce by C.S. Lewis. It's an easy read at less than 150 pages. If you haven't read it yet, don't be put off by the title. It's a fun read about a bus ride from Hell to Heaven and is that rare book that manages to be both light and deep at the same time. Read it and come join with other singles to hear what others took from the story.
6:30 - 9:30: Breakfast (Continental Style All Morning)

10:00 - 10:30: Keynote Speaker (Doug Ratelle @ CDA Stake Center)
10:30 - 12:00: Service Project
12:00 - 1:30: Lunch
1:30 - 2:00: Keynote Speaker (Linda Davis  @ CDA Stake Center) 
2:00 - 4:30: Backyard games and activities at McEuen Field
4:30 - 6:00: Dinner at McEuen Field in Coeur d'Alene
6:00 - 7:00: Embark (walk over from McEuen Park)
7:00 - 9:00: Social & Sunset Cruise with DJ! (Cruise capacity is 149 passengers. $10 per passenger. It will fill so please register early! Must register online)
9:00 - 9:45: Cookies at the Pavilion
10:00 - Midnight: Bonfire at Honeysuckly Building in Hayden
Sunday
8:00 - 8:45: Breakfast

9:00 - 10:00: Sacrament (outside at Pavilion near the Spokane Temple)
10:30: Lunch
Have questions about Let Your Light Shine: Spokane Single Adult Conference & Cruise?
Contact the organizer
When & Where

Coeur d'Alene Stake Center
2801 N 4th Street
Coeur d'Alene, ID 83814


Friday, September 13, 2019 at 6:00 PM

-

Sunday, September 15, 2019 at 12:00 PM (PDT)
Add to my calendar