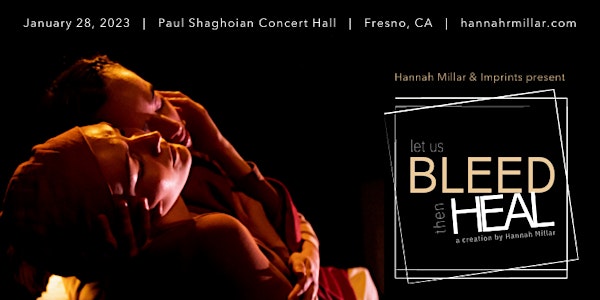 Let Us Bleed, Then Heal (Fresno, CA Live Performance)
Using dance, props, spoken word and ASL, "Let Us Bleed, Then Heal" embodies the universal question that plagues humanity: "who am I?".
When and where
Location
Paul Shaghoian Memorial Concert Hall 2770 East International Avenue Fresno, CA 93730
Refund Policy
Contact the organizer to request a refund.
Eventbrite's fee is nonrefundable.
About this event
We are so thrilled to bring this performance to Fresno! We had a beautiful weekend premiere in July 2022 at The Odyssey Theatre in Los Angeles. The feedback was overwhelming and it became clear that this story embodies and connects humanity on so many levels, particularly by posing the universal question that persists for all humans at various points of life: "who am I?".
With both movement and spoken word, this captivating, story-driven work immediately transports viewers deep into Millar's journey of pain and healing since the death of her Mom in 2014. Millar intuitively allows the audience to peer into her darkest moments: the complexities of a Mother/Daughter relationship, leaving the family religion, coming out as gay, the confusion of conditional love, breakups, loneliness, deep betrayal and losing someone to cancer.
In 90 minutes, Millar not only allows us to see our own pain reflected in her struggle, she also transforms that pain before our eyes into the peace, joy and healing that can emerge from looking deep into yourself.
This story invokes us to ask ourselves transformative questions:
How can I stop allowing my wounds to choose my path?
Can I really heal my pain?
The choreography and movement within this masterpiece not only comes to life with the skill of the exquisite Imprints dancers, it's also infused with the essence of meditation, breathing, journaling, Qigong and Yoga (integral to Millar's healing and creativity). Every aspect of this piece carries a presence and awareness that ignites emotion and vulnerability within any viewer. It is sure to leave you feeling contemplative of your own journey through this life.
Who is this show for? Literally everyone. While the depths of the story are truly relatable to any human, some of the specific themes include:
mental health
death and grief
relationship struggles
betrayal
lgbtqia
leaving religion
redemption
healing
finding peace
(*Please Note: If you are deaf or hard of hearing and need a seat near the interpreter, please email Hannah at hannahmillar@gmail.com)
Ages 12 & up suggested for mature content