The 2019 statewide pro-life conference for California
About this Event
On Saturday 9/7 pro-lifers across the state will gather once again at the home of the free speech movement: the University of California, Berkeley. You will be equipped to talk about the controversial topic of abortion, inspired to help pregnant people and families in need, and made ready for pro-life activism within your own community. California is a crucial place and we are living in crucial times for the pro-life movement. Let us join talents to navigate a new and unified path towards building a culture of life in the one state that influences cultural change on a global scale above all others. This year's theme is The Hero's Journey: breaking our of our comfort zone, overcoming obstacles, and finding a path towards justice for the most marginalized among us.
DAY BEFORE: Protest UCSF!
The day before the main event, we will be hosting a major action against UCSF, the late-term abortion training capital of the US! Please be a part of this historic action on Friday, September 6th!
Details can be found here: www.eventbrite.com/e/protest-ucsf-an-american-horror-story-tickets-69956741497
Speakers
Father Frank Pavone - Priests for Life
Terrisa Bukovinac - Pro-Life San Francisco
Destiny Herndon-De La Rosa - New Wave Feminists
Catherine Glenn Foster - Americans United For Life
Walter Hoye - Issues4Life Foundation
Eric Cochran - Pro-Life San Francisco
Albany Rose - Post-Abortive Pro-Life
Herb Geraghty - Rehumanize International
Dr. Michael New - Charlotte Lozier Institute
Wynette Sills - Californians for Life
Robert Byrd - Pro-Life San Francisco
Cheryl Conrad and Jeff White - Survivors of the Abortion Holocaust
Jazzi Milton - Pro-Life San Francisco
Elijah Thompson - Dank Pro-Life Memes
Camille Cisneros - Students for Life of America
Bryan Kemper - Stand True
Filmmaker and activist Jason Jones will be hosting this year's pro-life film festival where we will screen Crescendo and Sing a Little Louder. He will also pitch his newest project Middle of the Road. It is not to be missed!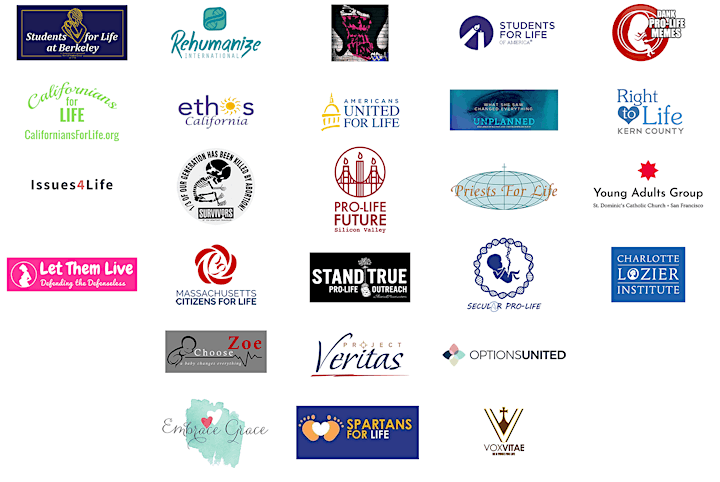 Breakfast and Lunch are included!! Vegan options available. Let us know if you have any further dietary restrictions.
Tickets will likely sell out and not be available on the day of the event. If cost is an issue for anyone please do not hesitate to reach out.
Keep an eye on our Facebook page for updates!