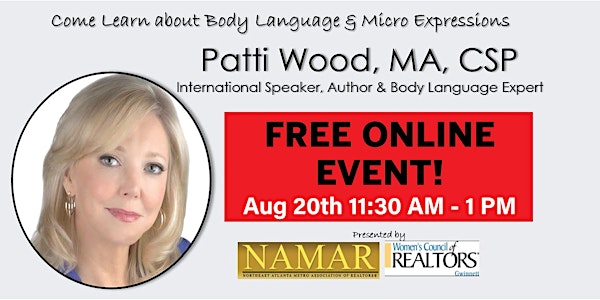 "Let Me Hear Your Body Talk!" National Speaker Patti Wood Body Lingo/Sales
Come learn from national speaker Patti Wood about body language, micro expressions, and how to read people during this time of COVID.
About this event
Don't miss national speaker and non-verbal communication expert Patti Wood.
Patti is credited for bringing Body Language to the national consciousness by The New York Times and Time Magazine recognized her nonverbal communication course at FSU as one of the top college courses in the country. The Washington Post calls her "The Gold Standard of Body Language Experts."
She is interviewed an average of twice a week by media around the world including; The Today Show, CNN, ABC, The Talk, Good Morning America, PBS, FOX News Network, FOX Business Network, Entertainment Tonight, The History Channel, Discovery Channel, CBS, Nancy Grace, Dr. Drew, The Steve Harvey Show, Forbes. The Wall Street Journal, Bloomberg Business Week, Entertainment Weekly, USA Today, Newsweek, Sports Illustrated, The Huffington Post, The Week, Men's Health, Elle, People, ESPN, US Weekly, The New York Post, The London Times, Readers Digest, Oprah Magazine, Esquire, Psychology Today, Fortune, and many more.
Her broad knowledge and research on nonverbal communication led to her positions as the national spokesperson for many well-known national brands.
Author Patti has written extensively on various communication topics and authored eight books including; "Easy Speaking - Dynamic Delivery", "Easy Speaking Audience Focused Presentations" and "SNAP, Making the Most of First Impressions, Body Language and Charisma." Visit the book's website at www.snapfirstimpressions.com.