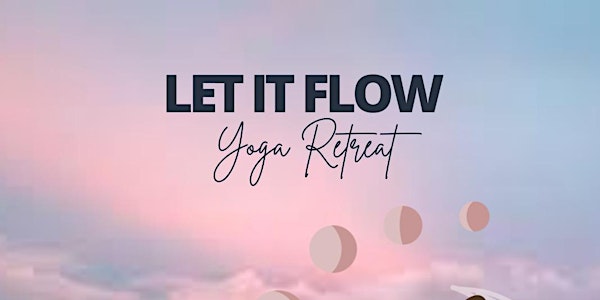 Location
Blaney Spa & Yoga Centre
Blayney Spa & Yoga Centre
Enniskillen
BT93 7DD
United Kingdom
Let it Flow is a day to give yourself time to reconnect and revitalise.
About this event
Join your hosts, yoga teachers Claire Brides and Noeleen Shannon for this special day created for you.
Taking place in Blayney Spa & Yoga centre, this retreat gives you permission to slow down, connect to yourself and have fun with others.
Switch off your phone and let things flow.
The day will begin with an opening circle, a flow-style class with Claire followed by tea and snacks. Then the choice is yours to swim in the lake, relax in the outdoor hottub or simply rest and read a book. A nourishing vegetarian brunch will be provided and the day will end with a nurturing yin yoga class led by Noeleen and a closing circle.
About your Facilitators
Noeleen Shannon
Noeleen has been practicing yoga for over 20 years and has trained with Noeleen Tyrell, Grace Tempany and Yoga Therapy Ireland amongst others. After completing her 200 hours Hatha Yoga training in 2014, she went on to complete further training in Pregnancy Yoga and Restorative Yoga and recently completed 100 hours of Yin Yoga teaching training. In 2020 Noeleen felt and listened to the calling to facilitate women's circles, tuning into the cycles of the moon and our divine feminine cycles within. This led to participating in Kitty Maguire's Red Alchemy Menstrual Cycle Awareness training. For Noeleen being in the safe, nurturing space of a women's circle has been a source of much love and support through difficult times in her life and now she feels strongly about sharing this work and feminine wisdom so that other women may also reconnect with their inner wild woman. Noeleen facilitates Moon Magic Circles by the lake, connecting to mother nature, the elements and the moon cycles, new and full moons.
Claire Brides
Claire found her love of yoga in her early 20's, using it as a tool to reduce stress while studying a BA in Visual Design. From then on she continued to incorporate the practice into her daily routine and lifestyle. The seed was planted and her love of yoga took her to Thailand to dive deep into the well of yoga, completing her first 200hr YTTC there in 2018. After spending a few months studying and teaching she returned home and moved to Ard Nahoo Eco Retreat to work and study under Noeleen Tyrrell. Since then she has trained in Yin Yoga and Restorative Yoga.
Her love of movement led her to train in Sports Yoga with Sarah Ramsden in the UK in 2020; the year long study aligned with her aim of bringing the practice of yoga to everyone. Claire believes having a regular yoga practice brings strength, flexibility and freedom into both the body and mind. Expect her classes to be strong, heartfelt and of course fun.
Claire is currently studying to become a cranio-sacral therapist, viewing the body as a whole and hopes to combine the treatment with her love of yoga to allow her clients and students to connect back in with themselves and heal in a natural way.