Event Information
Location
The Verdi Club
2424 Mariposa Street
San Francisco, CA
Description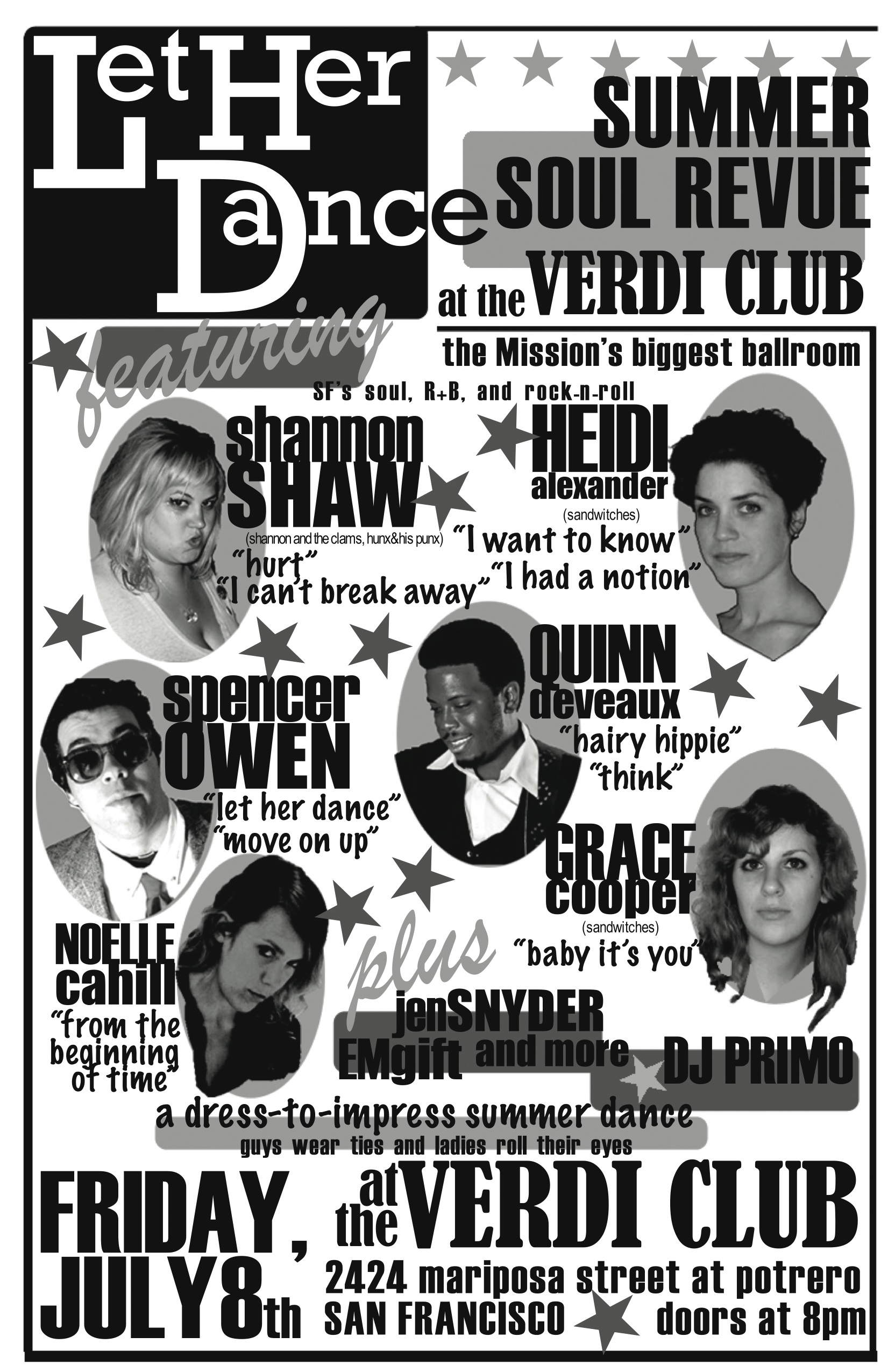 LET HER DANCE: Summer Dance
Summer is here and on Friday July 8th, local musicians will pay homage to soul greats and
E V E R Y O N E will be dancing. The party will be led by DJ Primo and include live performances from Bay Area garage rockers (including members of the Sandwitches and Oakland's Shannon and the Clams). This will be a summer dance event full of talent and a great selection of music that will take people back to the nights of 60's southern soul flavor...even if they only know the likes of it if from the movies. Featured songs include tunes by Ike and Tina Turner, Curtis Mayfield, Edwin Starr, the Bobby Fuller Four and the one hit wonders, The Society Girls. Aside from a time machine, The Verdi Club is the perfect location to take us back. Come Dance with us.
Dress Code : Guys wear ties, ladies roll their eyes and look hot.
21 and over dance all night
$12 Advance, $15 at the door.
tickets can be purchased here...website or paypal link
Special Guests Include:
DJ Primo Pitmo, Heidi Alexander and Grace Cooper (The Sandwitches, Fresh and Onlys, Sonny and the Sunsets), Shannon Shaw (Hunx and his Punx, Shannon and the Clams), Noelle Cahil (Tim Cohen's Magic Trick), Em Gift (Ocean Spray), Quinn Devaux
(QUINN DEVEAUX AND THE BLUE BEAT)
, and the backing band -The Goldstar Band).
Date and Time
Location
The Verdi Club
2424 Mariposa Street
San Francisco, CA