Let Go & Let Come: Transformation of Self, Society and Business Experience
Description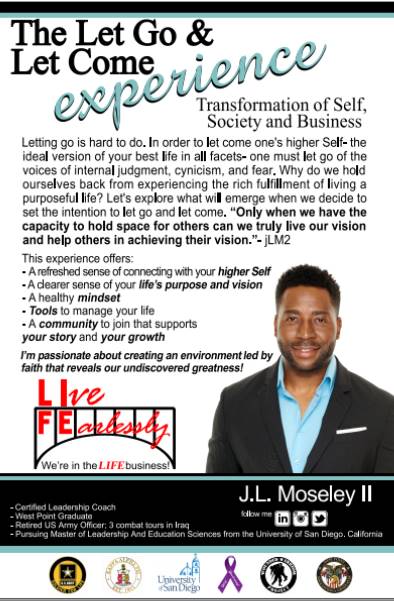 Let Go & Let Come
Organizational, team, and family growth begins with personal growth. Personal growth begins with a new mindset. Letting go is hard to do. In order to let come one's higher Self- the ideal version of your best life in all facets- one must let go of the voices of internal judgment, cynicism, and fear. These voices are the internal narrative we tell our self through years of repetition that are lodged in our subconscious. We act, think and feel contrary to the way we really want to act, think and feel. In essence, we hold ourselves back from experiencing the rich fulfillment of living a purposeful life. Why do we do that? Let's explore what will emerge when we decide to set the intention to let go and let come. Only when we have the capacity to hold space for others can we truly live our vision and help others in achieving their vision. Let's change lives, and thus the world, by creating meaning in everything and everyone we come into contact.
What this experience will leave with you:
A refreshed sense of connecting with your higher Self

A clearer sense of your life's purpose and vision

A healthy mindset

Tools

to manage your life

A community to join that supports your story and your growth.
This experience is best catered to personnel:
Awakening to and discovering their purpose

Developing their personal mission, vision, and values

Facing personal and professional transitions (high school to college, college to workforce, job to career, single to marriage, marriage to divorce, etc.)

Emerging leaders and managers

Up and coming entrepreneurs

Seeking balance to their life

Managing a new small business start-up (5-30 employees)

Seeking tangible life tools to manage their life experience
***Free snack and beverages will be available.