Let Freedom Ring! The Northeast/NYC-NJ Regional with Mr.Darnell Self
WE NEED TO DREAM BIG DREAMS AGAIN and it all begins August 7th!!! Limited seats available for this one-time only event for 2021!
About this event
It is time to dream big dreams again. Time to remember who you are and what you are capable of if given the right vehicle. It is time for you to TAKE CONTROL OF OUR FUTURE AND BECOME FINANCIALLY FREE and where better to do it but in the Birthplace of Freedom - Philadelphia!
Get shown what you need to do and how simple it is to get what you want by none other than Mr. Darnell Self who created a $1,000,000+ yearly lifestyle by protecting and empowering others. He will be joined by many colleagues who collectively have made millions by doing what Mr. Self will be showing you.
Don't let anyone crush your dream. You were born to be free.
Come learn how to get what is yours.
12:00PM (NOON): Social
12:45PM: Event
3:30PM: After-party with food and drink
Only $20 , guests FREE but must be registered for entry.
Click here for Event flyer
Pre-Registered Associates so far - By State and by Name
(as of 8/6/2021):
BY STATE:
First Name Last Name State Enter State Abbreviation:
Andre Ezell CT
Angel Melendez CT
Aurelie Martinez CT
C Neal Gilford CT
Delano Paul CT
Derrick Williams CT
Guenivere Caslangen CT
Jennifer Mighty CT
Kevin Palache CT
Kirk Schneider CT
Malachi Davis CT
Martina Esnard CT
Omar Robinson CT
Robert Harris CT
Sean Kennedy CT
Tanisha Stewart CT
Venn Fletcher CT
Amy Mahoney MA
Clifford Pafford MA
Holly Loverro MA
James Tanner MA
James Tanner MA
Leia Osbourne MA
Connie Ayotte ME
DANIEL TRUE ME
Diane Campbell ME
Michelle True ME
Nola Fennessy ME
Ace Frazier NY
Ada Corbin NY
Adetta Agard NY
Akalia Gayle NY
Allie Goulbourne NY
Alton Benn NY
Angela DAmico NY
Angela D'Amico NY
Angela Berry NY
Annmarie Walker NY
Anthony Franklin NY
Barbara Demetrius-Powell NY
Beerah McElveen NY
Benita Malloy NY
Bertha Hardoman- NY
Bradford Allen NY
Brittany Givens NY
CALEMEZE WALKER NY
Carla Harris NY
Carlos Hines NY
Cathleen Kloczkowski NY
Christine Davidson NY
Christine Manning NY
Constance Archer NY
Dan Wright NY
Daniel Crosby NY
Dannilla Morgan NY
Darren Jamison NY
David Quattlebaum NY
Deborah Myers NY
Diane Lucas NY
Diane L Lucas NY
Ed Walker NY
Emmalee Jantzi NY
Eshawnda Petersen NY
Eugene Richardson NY
Eugene Richardson NY
Flora Vidal NY
Fred DaCosta NY
Fred DaCosta NY
Gale Lovejoy NY
GWENDOLYN FAIRLEY-SMITH NY
Hasani Clarke NY
Howard Vics NY
Jacque Goodman Cummings NY
Jennifer Stroebel NY
jim layhew NY
Joe Lovejoy NY
Joseph Lovejoy NY
Kalimah Small NY
Kelly Clark NY
Kelvin Ringold NY
Kevin Shorette NY
KEVIN WHITTY NY
Kimberly Hardin NY
LANY Wortham NY
Lisa McGarr NY
Lydia Jones NY
Lydia Jones NY
Malynda Richardson NY
Maria Fields NY
Maria Daisy Leonard NY
Max Pilet NY
Mayra Lunna NY
Michael Leonard NY
Micheal Christian NY
Micheal Christian NY
Michelle Sainsbury NY
Michelle McPhun NY
Nancy Wolff NY
Nicole Calendar NY
Oscar Capel NY
Osita Nwachukwu NY
Pat Manning NY
Peggy Griffiths NY
Perry Little NY
rachel Barrow NY
Rajesh Kalelkar NY
Reginald Charles NY
Rita Sarafutdinova NY
Robert Holland NY
Ron Henry NY
Roxanne Richardson NY
Russell Dixon NY
samantha campbell NY
SARAH ALLEN NY
Sheldon maddix NY
Suzanne Piard NY
Tamika Pridgen NY
Tammie Hayner NY
Therese Renaud NY
Wesley Mckoy NY
William Titherington NY
William Titherington NY
Yvette McElveen NY
Paul W. Oatman Other AZ
Kevin Lord Other CAN
Enrique Lopez Other DC
Sharon Twitty Other DC
Denae Powell Other DE
Terry Tolson Other De
Terry Tolson Other De
Tonya Powell Other DE
Tyrone Bishop Other DE
Valerie Thompson Other DE
Griff Hammel Other FL
Marc Fareau Other FL
Saul Urrutia Other FL
Venn Fletcher Other FL
Adele Moore Other GA
Tim Crawley Other GA
Pam Hult Other ID
Janis Thom Other MD
Quentin Pearson Other MD
Sheila Horn Other MD
Tristan Curry Other MD
Melissa Delbridge Other MS
Gregory Reid Other NC
Gregory Reid Other NC
Armstead Gilliam Other Nj
Carol Walker Other NJ
Cheryl Shivers Other NJ
Chris Rolen Other NJ
clarence maney Other NJ
Dawn Salaam Other NJ
Dawn Carpenter Other Nj
Eileen Marcial Other NJ
Fran Harwell Other NJ
Greg Shivers Other NJ
Jacklyn Berman Other NJ
Jermaine Elam Other NJ
June McManus Other NJ
Kathleen Robinson Other NJ
Kathleen Dorris Other NJ
Kathleen Robinson Other NJ
Kathleen Robinson Other NJ
Len Moody Other NJ
Mamie Tolbert Other NJ
Mary Brown Other NJ
Mary Brown Other NJ
Michael Byrd Other NJ
Michael Byrd Other NJ
Nicholas Storozuk IV Other NJ
Pamela Landvreugd Other NJ
Shannon Standen Other NJ
Tanya Norwood Other NJ
Theodore Washington Other NJ
Victor Rivera Other NJ
Willie Tolbert Other NJ
Marguerite Agnes Hernandez Other NM
Maria Perkins Other NV
Taunya Scruggs Other OH
Curtis Almquist Other OR
Annie Frasier Other SC
Cynthia Williams Other SC
Elaine Croker Other SC
Chris Corley Other TN
Chris Corley Other TN
GLENDA FOREMAN Other VA
Theresa Burke Other VA
Barbara Edwards PA
Bernadette Roberts PA
Bobbie Tabb-king PA
Bobbie Tabb-king PA
Carlo Brown PA
Chad Histed PA
Damian Sheber PA
Darryl Crawford PA
David Bazemore PA
David Bazemore PA
David Gordon PA
Deborah Zenquis PA
Derek Norwood PA
Dori Rankinen PA
Ellen Pruett PA
Elwin Green PA
Elwin Green PA
Elwin Green PA
Elwin Green PA
Emilia Lorenti-Wann PA
Geri Clement PA
gonzales wilcox PA
Harvey Fox PA
HENRY Spraggins PA
James Wilkins PA
James Wilkins PA
James Wilkins PA
James Wilkins PA
James Wilkins PA
Keith Wann PA
Keith Robertson PA
Kevin Jestus PA
Lisa Peek PA
Marcia Few PA
Marcia Few PA
Margo Porter PA
Maxine Campbell PA
Michelle Husted PA
Robbin Black PA
Robert Medina PA
Tawalama Bodhisecha PA
Tony Whiting Sr PA
Troy Slaffey PA
Valerie Lowe PA
Valerie Medley PA
Victor Porter PA
victor porter PA
Wahidah Lee PA
Wahidah Lee PA
Wahidah Lee PA
Wanda Bell PA
Yolanda Jefferson PA
Ebony ferrell RI
Kevin Caliste RI
Kevin Caliste RI
Precious Clouthier RI
===================
BY NAME:
Ace Frazier NY
Ada Corbin NY
Adele Moore Other GA
Adetta Agard NY
Akalia Gayle NY
Allie Goulbourne NY
Alton Benn NY
Amy Mahoney MA
Andre Ezell CT
Angel Melendez CT
Angela DAmico NY
Angela D'Amico NY
Angela Berry NY
Annie Frasier Other SC
Annmarie Walker NY
Anthony Franklin NY
Armstead Gilliam Other Nj
Aurelie Martinez CT
Barbara Demetrius-Powell NY
Barbara Edwards PA
Beerah McElveen NY
Benita Malloy NY
Bernadette Roberts PA
Bertha Hardoman- NY
Bobbie Tabb-king PA
Bobbie Tabb-king PA
Bradford Allen NY
Brittany Givens NY
C Neal Gilford CT
CALEMEZE WALKER NY
Carla Harris NY
Carlo Brown PA
Carlos Hines NY
Carol Walker Other NJ
Cathleen Kloczkowski NY
Chad Histed PA
Cheryl Shivers Other NJ
Chris Rolen Other NJ
Chris Corley Other TN
Chris Corley Other TN
Christine Davidson NY
Christine Manning NY
clarence maney Other NJ
Clifford Pafford MA
Connie Ayotte ME
Constance Archer NY
Curtis Almquist Other OR
Cynthia Williams Other SC
Damian Sheber PA
Dan Wright NY
DANIEL TRUE ME
Daniel Crosby NY
Dannilla Morgan NY
Darren Jamison NY
Darryl Crawford PA
David Quattlebaum NY
David Bazemore PA
David Bazemore PA
David Gordon PA
Dawn Salaam Other NJ
Dawn Carpenter Other Nj
Deborah Myers NY
Deborah Zenquis PA
Delano Paul CT
Denae Powell Other DE
Derek Norwood PA
Derrick Williams CT
Diane Campbell ME
Diane Lucas NY
Diane L Lucas NY
Dori Rankinen PA
Ebony ferrell RI
Ed Walker NY
Eileen Marcial Other NJ
Elaine Croker Other SC
Ellen Pruett PA
Elwin Green PA
Elwin Green PA
Elwin Green PA
Elwin Green PA
Emilia Lorenti-Wann PA
Emmalee Jantzi NY
Enrique Lopez Other DC
Eshawnda Petersen NY
Eugene Richardson NY
Eugene Richardson NY
Flora Vidal NY
Fran Harwell Other NJ
Fred DaCosta NY
Fred DaCosta NY
Gale Lovejoy NY
Geri Clement PA
GLENDA FOREMAN Other VA
gonzales wilcox PA
Greg Shivers Other NJ
Gregory Reid Other NC
Gregory Reid Other NC
Griff Hammel Other FL
Guenivere Caslangen CT
GWENDOLYN FAIRLEY-SMITH NY
Harvey Fox PA
Hasani Clarke NY
HENRY Spraggins PA
Holly Loverro MA
Howard Vics NY
Jacklyn Berman Other NJ
Jacque Goodman Cummings NY
James Tanner MA
James Tanner MA
James Wilkins PA
James Wilkins PA
James Wilkins PA
James Wilkins PA
James Wilkins PA
Janis Thom Other MD
Jennifer Mighty CT
Jennifer Stroebel NY
Jermaine Elam Other NJ
jim layhew NY
Joe Lovejoy NY
Joseph Lovejoy NY
June McManus Other NJ
Kalimah Small NY
Kathleen Robinson Other NJ
Kathleen Dorris Other NJ
Kathleen Robinson Other NJ
Kathleen Robinson Other NJ
Keith Wann PA
Keith Robertson PA
Kelly Clark NY
Kelvin Ringold NY
Kevin Palache CT
Kevin Shorette NY
KEVIN WHITTY NY
Kevin Lord Other CAN
Kevin Jestus PA
Kevin Caliste RI
Kevin Caliste RI
Kimberly Hardin NY
Kirk Schneider CT
LANY Wortham NY
Leia Osbourne MA
Len Moody Other NJ
Lisa McGarr NY
Lisa Peek PA
Lydia Jones NY
Lydia Jones NY
Malachi Davis CT
Malynda Richardson NY
Mamie Tolbert Other NJ
Marc Fareau Other FL
Marcia Few PA
Marcia Few PA
Margo Porter PA
Marguerite Agnes Hernandez Other NM
Maria Fields NY
Maria Perkins Other NV
Maria Daisy Leonard NY
Martina Esnard CT
Mary Brown Other NJ
Mary Brown Other NJ
Max Pilet NY
Maxine Campbell PA
Mayra Lunna NY
Melissa Delbridge Other MS
Michael Leonard NY
Michael Byrd Other NJ
Michael Byrd Other NJ
Micheal Christian NY
Micheal Christian NY
Michelle True ME
Michelle Sainsbury NY
Michelle McPhun NY
Michelle Husted PA
Nancy Wolff NY
Nicholas Storozuk IV Other NJ
Nicole Calendar NY
Nola Fennessy ME
Omar Robinson CT
Oscar Capel NY
Osita Nwachukwu NY
Pam Hult Other ID
Pamela Landvreugd Other NJ
Pat Manning NY
Paul W. Oatman Other AZ
Peggy Griffiths NY
Perry Little NY
Precious Clouthier RI
Quentin Pearson Other MD
rachel Barrow NY
Rajesh Kalelkar NY
Reginald Charles NY
Rita Sarafutdinova NY
Robbin Black PA
Robert Harris CT
Robert Holland NY
Robert Medina PA
Ron Henry NY
Roxanne Richardson NY
Russell Dixon NY
samantha campbell NY
SARAH ALLEN NY
Saul Urrutia Other FL
Sean Kennedy CT
Shannon Standen Other NJ
Sharon Twitty Other DC
Sheila Horn Other MD
Sheldon maddix NY
Suzanne Piard NY
Tamika Pridgen NY
Tammie Hayner NY
Tanisha Stewart CT
Tanya Norwood Other NJ
Taunya Scruggs Other OH
Tawalama Bodhisecha PA
Terry Tolson Other De
Terry Tolson Other De
Theodore Washington Other NJ
Theresa Burke Other VA
Therese Renaud NY
Tim Crawley Other GA
Tony Whiting Sr PA
Tonya Powell Other DE
Tristan Curry Other MD
Troy Slaffey PA
Tyrone Bishop Other DE
Valerie Thompson Other DE
Valerie Lowe PA
Valerie Medley PA
Venn Fletcher CT
Venn Fletcher Other FL
Victor Rivera Other NJ
Victor Porter PA
victor porter PA
Wahidah Lee PA
Wahidah Lee PA
Wahidah Lee PA
Wanda Bell PA
Wesley Mckoy NY
William Titherington NY
William Titherington NY
Willie Tolbert Other NJ
Yolanda Jefferson PA
Yvette McElveen NY
Registration link: https://gr8northeastsupersaturday.eventbrite.com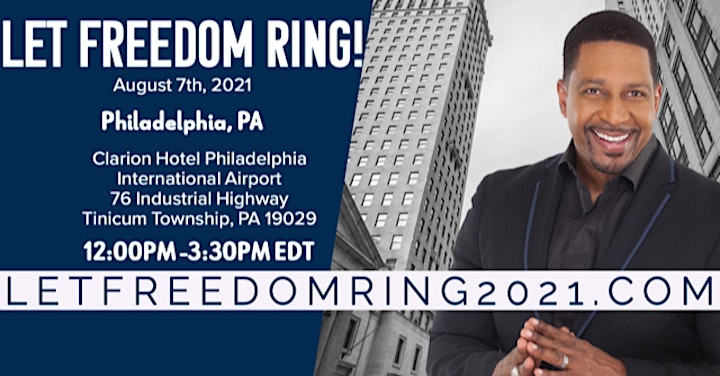 Organizer of Let Freedom Ring! The Northeast/NYC-NJ Regional with Mr.Darnell Self