About this Event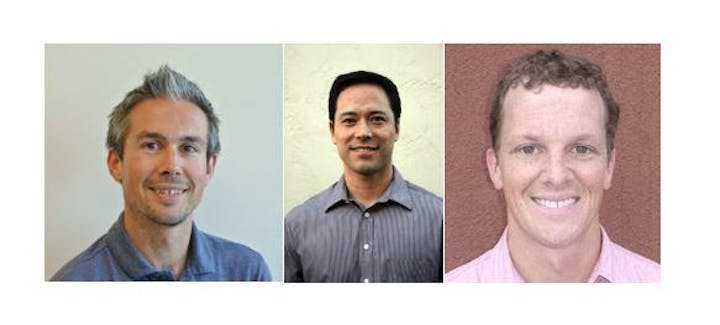 ABOUT THE PRESENTATION
Three research chemists will discuss the critical decisions they faced during their undergraduate and graduate training and in their careers. They will address the challenges they faced, the factors that influenced their decisions, and the resulting impact of those choices. Ample time will be given for attendees to explore areas such as career options, skills now in demand, planning for graduate school and ways for increasing employability. Don't miss this opportunity to get the information you need to know to make thoughtful career decisions.
DATE:
Thursday, September 19, 2019
TIME:
6:00 PM Social Hour, Light Meal
6:30 PM Panel Presentation followed by Discussion
PLACE:
Kellogg Reading Room, California State University San Marcos
ABOUT THE SPEAKERS
Graeme Freestone is a Principal Scientist in the Medicinal Chemistry department at Ionis Pharmaceuticals, where his research is focused on improving the therapeutic profile of antisense oligonucleotides. His previous research experience was at Metabasis Therapeutics, Helicon Therapeutics and Dart Neuroscience working in various therapeutic areas including cardiovascular, metabolic, and neurological. He earned his MChem from the University of Manchester, Ph.D. from University of Oxford and undertook a post-doctoral position at the Scripps Research Institute with KC Nicolaou. He is active in the San Diego Section of the American Chemical Society, serving in various roles over the years including Member at Large, Treasurer, and Chair of the Section.
Mark Tichenor is a medicinal chemist at Janssen Research & Development with 12 years of experience in drug discovery, working in the Pain and Immunology therapeutic areas. He earned his BS at UC San Diego and his PhD at the Scripps Research Institute in the laboratory of Professor Boger. Mark served as the chair of the San Diego Section of ACS in 2014, and he is currently a member of the organizing committee for the annual ACS/UCSD Medicinal Chemistry Symposium.
Ben Pratt received his BA in chemistry from Dartmouth College. After 3 years as a Research Associate at Rhodia ChiRex in the department of Process Research and Development, he began his Ph.D. with Professor K.C. Nicolaou at The Scripps Research Institute on the synthesis of complex natural products. Since 2008, Ben has been a medicinal chemist at San Diego biotechnology companies focused on the therapeutic areas of cancer at Ambit Biosciences, metabolic disease at Exelixis, and cognitive enhancement at Dart NeuroScience, Nonalcoholic steatohepatitis at Akarna Therapeutics/Allergan, and he is currently a consultant for small molecule drug discovery and development. Ben co-founded the Academics 2 Industry lecture series that serves as a primer course for aspiring medicinal chemists.