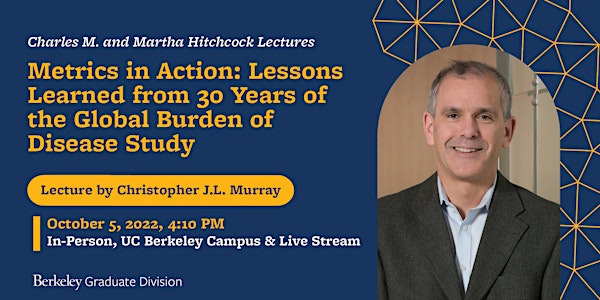 Lessons Learned from 30 Years of the Global Burden of Disease Study
Hitchcock Lecture with Christopher Murray on Metrics in Action: Lessons Learned from 30 Years of the Global Burden of Disease Study
When and where
Location
International House- Chevron Auditorium 2299 Piedmont Avenue Berkeley, CA 94720
About this event
Join Dr. Christopher J.L. Murray, Chair of Health Metrics Sciences at the University of Washington and Director of the Institute for Health Metrics and Evaluation (IHME) for a Charles M. and Martha Hitchcock Lecture on the topic of Metrics in Action.
This lecture will draw some general lessons learned from three decades of the Global Burden Disease both on the analysis of global health and communicating results to decision-makers. The issues that need to be addressed or at least reckoned with include missing data, inconsistent case definitions, diverse instruments and assays, conflicting data, and exclusion of disadvantaged groups from administrative data.
Please be advised that this event is currently being offered virtually and in person, though that is subject to change.
The in-person event will be held at International House, Chevron Auditorium, 2299 Piedmont Avenue — UC Berkeley Campus. The event will also be available virtually via live stream on the lecture webpage.
For updates about this lecture and upcoming lecture series events, please visit the Berkeley Graduate Lectures website.