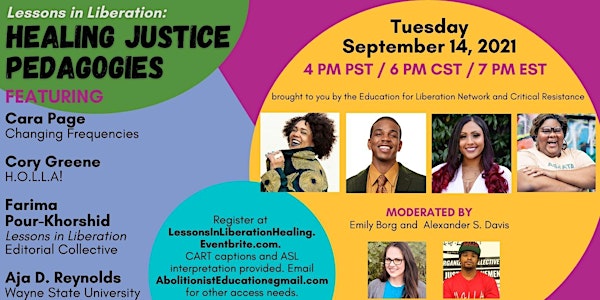 Lessons in Liberation: Healing Justice Pedagogies
In celebration of the release of "Lessons in Liberation: An Abolitionist Toolkit for Educators": Our second launch on healing justice.
About this event
In celebration of the release of "Lessons in Liberation: An Abolitionist Toolkit for Educators" (forthcoming September 2021 from AK Press), we're excited to announce this webinar series to support abolition across educational contexts. The second webinar will focus on healing justice pedagogies.
"Lessons in Liberation" is a collection brought together by the Education for Liberation Network and Critical Resistance to create bridges between abolition and education and to highlight existing organizing efforts. This collection, including the accompanying forthcoming website and discussion guide, offers educators, parents, and young people entry points to build critical and intentional connections to the growing movement for the abolition of the Prison Industrial Complex, particularly in PreK-12 learning contexts.
Details on how to join the webinar will be sent out the day before the event.
Please register to receive a link to join our webinar. ASL Interpretation will be provided by Certified Deaf Interpreters and Deaf Interpreters. We will also provide CART Captions. Please contact Sheeva (she or they) at abolitionisteducation@gmail.com for any additional accessibility needs or accessibility questions.
Aja Denise Reynolds is a healer, activist, artist and educator. She is the legacy of Linda and the late Ralph Reynolds, a testament of her family's survival and resistance in the US. In the many roles she is positioned in, she is led by a Black feminist spirit of care, collectivism and courage to confront systems of oppression. Her gifts possess the power to bring people together, and bring light into dark places through laughter. Currently, she is an Assistant Professor at Wayne State University. Her classroom is an invitation to grapple with critical theories, deep reflection with ourselves and brave dialogue. Aja's research interests are inspired by her on-going relationships with Black girls to engage theories and practices in geography, youth development and social movements. Her collaborative engagement with Black girls focuses on creating 'fugitive' or freedom spaces through the use of art, activism and healing. Aja's dissertation titled "Ain't Nobody Checking for Us: Race, Fugitivity and the Urban Geographies of Black Girlhood" is her most current work that documents this labor of love. Additionally, she is part of national education networks, including the Education for Liberation Network, in which she organizes with teachers, youth and community organizations to develop justice-centered educational sites. Her favorite Black girl saying to date is "it's the (insert noun/verb/adj) for me".
Alex Davis is a 90's baby Born in Brooklyn, NY. Alex's family is from Honduras and the South Mississippi. The Legacy Alex stands on comes from ancestral wisdom, the people movements that come before them, the Women who have unconditionally cared for them, and the Struggle. Alex is a Healing Justice Organizer with H.O.L.L.A! (How our lives link altogether), which is a grassroots organization that stands on the Legacy of other grassroots movements such as The Green Haven Think Tank. H.O.L.L.A! focuses on using Human and Healing Justice practices and Community organizing as a portal for youth who have been impacted by structural violence, can become leaders of their communities
Cara Page is a Black Queer Feminist cultural/memory worker, curator, and organizer. For the past 30+ years, she has organized with Black, Indigenous and People of Color, Queer/Trans/Lesbian/Gay/Bi/Intersex/Gender Non-Conforming liberation movements in the US & Global South at the intersections of racial, gender & economic justice, reproductive justice, healing justice and transformative justice. She is leading a new project, Changing Frequencies, an archival/memory and cultural organizing project building power with communities who want to confront, heal from & transform the historical and contemporary exploitative practices and abuses of the Medical Industrial Complex (MIC). She is also co-founder of the Kindred Southern Healing Justice Collective.(https://carapage.co) IG:@changingfrequencies
Cory Greene is a formerly incarcerated co-founder and Healing Justice Organizer with How Our Lives link Altogether! (H.O.L.L.A!). Cory is invested in developing, leading and implementing an-intergenerational youth led citywide and nationwide Healing Justice Movement. Cory (40 years old) was born and raised by a single mother in East Elmhurst Queens, NY, during a time when many mothers and urban communities were impacted by the crack epidemic. Cory's ancestors and elders hail from the struggles of delta Mississippi, and the historical reality of being Black in "America" Cory's experiences as a youth growing up in urban ghettos have contributed to his understanding of the systemic inequalities As a result, Cory has committed himself to a wide range of educational projects, healing, and grassroots movement building that seek to change existing conditions for youth of color and our communities. Cory earned his Associate degree in Liberal Arts Deaf Studies from LaGuardia Community College. Cory earned his Bachelor of Science degree in Applied Psychology from New York University. VCory earned his doctoral degree from the Critical Social Personality Psychology program at the Graduate Center of the City University of New York (CUNY), where his research efforts analyze the praxis of grassroots pedagogy and healing-centered youth organizing within a process of radical healing.
Cory serves as research associate and leader on numerous participatory action research (PAR) projects. Cory is an organizer with the Formerly Incarcerated Convicted People and Family Movement (FICPFM), a national movement led by formerly incarcerated leaders to change the public policy landscape of criminal justice (punishment). Cory is a national organizer with the Education Liberation Project, engaging in a national project to uplift Prison Abolition through an educational toolkit. Cory is a 2013 National Science Foundation Predoctoral Fellow, 2013 Ford Foundation Doctoral Fellow, 2016 Echoing Green Fellow, & 2017 Camelback fellow. Cory's organizing work, humanity and analysis has been featured in critical documentaries such as Ava Duvernay's 13th, From Prison to NYU, and most recently, H.O.L.L.A!'s Healing Justice Movement Documentary "We Came to Heal." Cory has been married since he was 21 years old, a total of 17 years. Cory attributes knowing how to love and understanding of the importance of interpersonal journeying to his wife. Cory is a father. Cory attributes his work, motivation and success to his son's existence.
Emily Borg is an educator with experience in youth development, community organizing, and policy advocacy. Emily has both a BA in Community Studies and a Master's in Education, from UC Santa Cruz. Her research interests include healing-centered organizing, participatory action research, race & racism, transformative justice, and the punishment of youth trauma. Emily has been a youth program coordinator, policy & resource director, and regional connector to build and strengthen relationships between organizations working to address issues such as criminalization, incarceration, racism, zero tolerance discipline, and school police.
Emily grew up in the Bay Area, then lived in the Central Valley and worked in Stockton for 3 years. She returned to Redwood City in late 2017 to be closer to family after her husband Manny suffered a spinal cord injury resulting in quadriplegia and she became his primary caregiver. This experience has ignited her interests in an additional sphere of research related to caregivers, long-term care workers, spinal cord injury, disability, healthcare, healing and education.
Emily was a mentor and close friend of a young man named Brandon who was killed by gun violence. She is committed to carrying forward his vision and legacy by working closely with his mom Lecia to support and fulfill her dream of founding Be Smooth, Inc., an organization in Stockton that fosters school communities where youth and families heal, grow and create change. Through the EdD program, Emily aims to develop research, evaluation, and educational leadership skills that strengthen her ability to support the work of this organization and contribute to the field of education and youth organizing.
Farima Pour-Khorshid is a Bay Area educator-organizer-scholar. She taught at the elementary grade levels in her community for over a decade, as well as supported educators locally, nationally and internationally through her roles as a university professor, teacher supervisor, educational consultant and community organizer. She is deeply committed to bridging abolition and healing centered engagement in education. Much of her work is rooted in grassroots organizing as she serves in leadership roles within the Teachers 4 Social Justice organization, the Abolitionist Teaching Network and the national Education for Liberation Network which organizes the Free Minds Free People conference. Dr. Farima is also one of the editors, authors and organizers collaborating on the upcoming book, "Lessons in Liberation: An Abolitionist Toolkit for K-12 Educators, which will be published through AK Press and released in the Summer of 2021. This toolkit is a collaboration between the Education for Liberation, Critical Resistance and several other grassroots abolitionist and justice centered collectives.