Description
Lessons in Creating and Maintaining Prescribed Burn Associations
A free one hour webinar from the Southern Fire Exchange, SERPPAS and Oklahoma State University
Wednesday, January 18, 2016 1:00 - 2:30 PM ET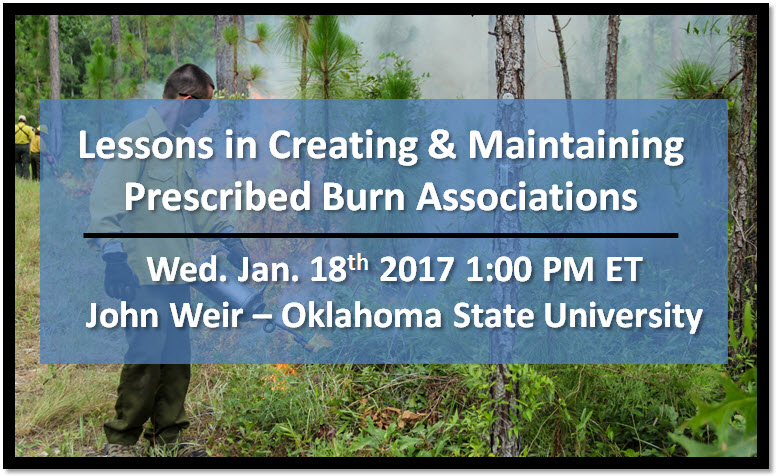 Presenter
John Weir, Oklahoma State University
Webinar Summary
Are you involved in creating, developing, guiding, or supporting a prescribed burn association (PBA)? Are you interested learning how prescribed burn associations work or how they're successfully sustained? Led by national PBA expert John Weir (Oklahoma State University) and supported by other PBA leaders, this webinar will discuss a range of common questions faced by PBA organizers and organizations. The webinar will start with a short overview of prescribed burn associations, their existing locations, structure and organization. After that introduction, the webinar will work to address some of the most common questions that can come up in PBA development and maintenance:
How big is too big in terms of PBA geographic boundaries?
What are the requirements to be a PBA member?
What is the structure of the steering committee?
How many meetings do you have annually?
How much are PBA dues and what do they include?
How do you prioritize whose land is burned?
How much do you charge for a burn?
The webinar will conclude with an open Q & A with John and other existing PBA members from around the country.
Partners
This webinar is in support of the Southern Fire Exchange, the Southeastern Regional Partnership for Planning and Sustainability (SERPPAS), and Oklahoma State University.

---
Event Registration
Pre-registration for the webinar is required. Once registered, participants will receive an Eventbrite Ticket email containing the webinar link. On the day of the webinar, click the link to join the meeting.
---
Webinar Requirements
If you have not previously used Adobe Connect, ensure that your computer and network connections are configured to provide you with the best possible experience by running a test. A reliable internet connection and speakers / headphones are required to participate. Webinar audio will be broadcast directly to your computer via the Adobe Connect interface. To join the post-webinar Q/A session, participants will need a microphone or should connect to the webinar conference call line. Click here to test your browser and computer configuration / connection. See the Adobe Connect Quick Start Guide (.pdf) for more information.
---
Webinar Recording
If you can't make the webinar, look for the recording to be posted on the Southern Fire Exchange YouTube Webinar Archive.
---
Contact Us
If you have questions about this webinar, contact the Southern Fire Exchange (contactus@southernfireexchange.org). Click here to check out our other upcoming Southern Fire Exchange fire science webinars.